WATCH: Iggy Pop Perfoms Bowie's The Jean Genie And Tonight At Tibet Benefit Gig
23 February 2016, 10:16 | Updated: 23 February 2016, 18:20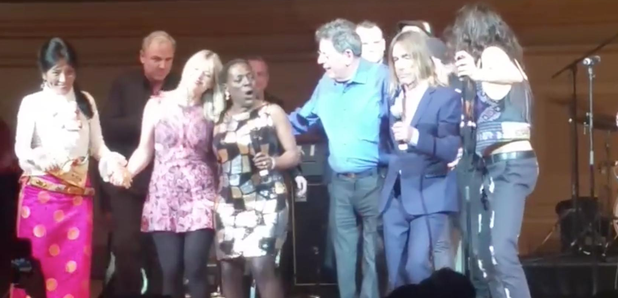 The Lust For Life star paid tribute to his late friend and collaborator at a benefit gig in Carnegie Hall.
Iggy Pop has paid homage his late friend and collaborator, David Bowie, with a performance of The Jean Genie.
The rocker took part in a benefit concert for Tibet at Carnegie Hall on Monday (22 February), where he joined forces with the Patti Smith Group for a rendition of the singer's famous track.
Watch it below:
Pop also sang Tonight with Sharon Jones, a song which Bowie had written for Iggy's Lust For Life album and later recorded himself.
Introducing the song, he said: "I was lucky enough to record it first, but with his words and guidance.
"He did it himself later with Tina Turner. It's a wonderful, elegant song with a deceptivally simple lyric and it's I think it's the right lyric for right now and for tonight."
Watch it below:
Bowie co-wrote and produced Pop's first two solo albums, The Idiot and Lust For Life. The late rock star also played keyboards in Pop's live performances during the same period while Pop contributed backing vocals on Bowie's Low.
Following the news of his passing, Iggy Pop paid tribute to David Bowie, saying he "salvaged" him from "annihilation".
Speaking to The New York Times, he revealed:"A lot of people were curious about me, but only he was the one who had enough truly in common with me, and who actually really liked what I did and could get on board with it, and who also had decent enough intentions to help me out. He did a good thing."
Meanwhile David Bowie's Blackstar will be featured on an InstaMiniSeries, called Unbound. The series, which starts on 25 February 2016, will take "the audience on a journey of evocative images inspired by the moods suggested in the album's music, lyrics and artwork."
See the post: