Arcade Fire Pay Tribute To Bowie in New Orleans, As London Fans Head To Union Chapel
18 January 2016, 12:10 | Updated: 18 January 2016, 12:13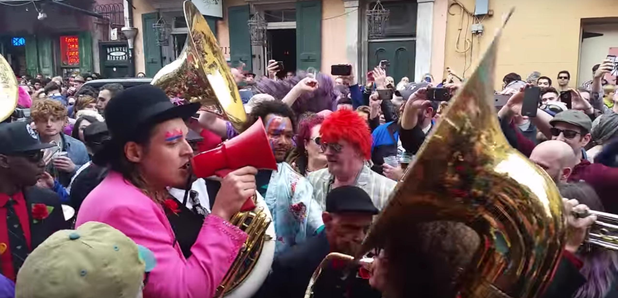 Crowds gathered this weekend to honour Bowie as a constellation is named after the star.
This weekend saw fans from across the globe gather to celebrate the life of David Bowie, who passed away last Sunday (10 December).
Arcade Fire brought the streets of New Orleans to a standstill with their procession on Saturday, which saw them join the Preservational Hall Jazz Band to perform a selection of Bowie's greatest hits.
Arcade Fire's David Bowie parade has seemingly shut down New Orleans. pic.twitter.com/8PLdqNcMGy

— Arcade Fire tube (@ArcadeFiretube) January 16, 2016
Crowds - who were told to wear their "best Bowie outfit or something more strange" - sang-along to the likes of Heroes, Starman and Modern Love.
On this side of the pond, the V&A screened David Bowie Is Happening, the film which accompanied their David Bowie Is.. exhibition.
Special screenings of #DavidBowieis Happening Now, the film which accompanied our exhibition https://t.co/MpfFKxlTlx pic.twitter.com/fe9C4Jv89X

— V&A (@V_and_A) January 12, 2016
Fans also gathered at Islington's Union Chapel on Sunday evening (17 January) to celebrate the life of the star. The night consisted of a singalongs of Bowie's biggest hits, including Heroes and Starman, as well as performances from special guests.
Yes, we can (Pic: @ohsagarika, @UnionChapelUK yesterday) #BowieTribute #concert pic.twitter.com/wY3L64WxV3

— Axelle TESSANDIER (@axelletess) January 18, 2016
The likes of the Magic Numbers and ex-Sex Pistols Bassist Glen Matlock and David Baddiel paid tribute, with vocalist David MacAlmont covered his tracks.
Meanwhile, a constellation has been named after the Ziggy Stardust icon. According to WOW 24/7, Belgian astronomers joined forces with Radio Brussels to create an out-of-this-world tribute to the star.
David Bowie: astronomers give him his own constellation https://t.co/MK32bbGIeZ How fitting for Ziggy Stardust. pic.twitter.com/Bh3bKK39ET

— Indigo Raven (@IndigoRave) January 18, 2016
Philippe Mollet from the MIRA public observatory said: "Studio Brussels asked us to give Bowie a unique place in the galaxy. Referring to his various albums, we chose seven stars – Sigma Librae, Spica, Alpha Virginis, Zeta Centauri, SAA 204 132, and the Beta Sigma Octantis Trianguli Australis – in the vicinity of Mars.
"The constellation is a copy of the iconic Bowie lightning and was recorded at the exact time of his death."
Listeners and fans of Bowie can create a personal tribute in the Bowie constellation at stardustforbowie.be, which calls for fans to "make it shine by adding (their) most memorable Bowie song."
After topping the UK chart last Friday, Bowie's final album, Blackstar has also given the late star his first US No.1 album, knocking Adele off the top of the Billboard 100.