Sprays Oddity: Why Everyone's Hating On This New Bowie Mural In Sheffield
3 February 2016, 13:45 | Updated: 4 February 2016, 13:24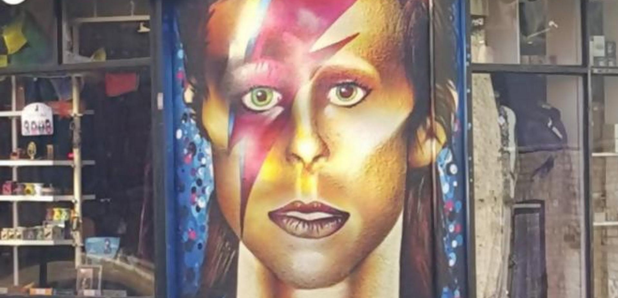 Fans are comparing the depiction of Bowie to Cher and Pat Sharp.
A new David Bowie mural has caused a stir, after it was unveiled in Sheffield today (3 February).
The mural - created by by graffiti artist trick09 - has got plenty of people talking, with most fans comparing its likeness to Pat Sharp.
See some of the best reactions to the mural below:
Probably the worst David Bowie mural you've ever seen, definitely the worst you've seen today pic.twitter.com/uOTX6bEV02

— Jonno Turner (@jonnot) February 3, 2016
Still, that Bowie mural will only need a bit of paint on the hair and lightning and it'll be fine for when Cher goes pic.twitter.com/O6jzfEwdrY

— Dismal Chips (@DismalChips) February 3, 2016
The Bowie mural in Sheffield looks more like Dennis from Always Sunny pic.twitter.com/rmpUMfwhhZ

— Josh v.2.0.2016 (@JAL_txt) February 3, 2016
I love that Pat Sharp is trending because of that Bowie mural

— Andy Parmo (@andyparmo) February 3, 2016
I'm sorry. I know I shouldn't but I'm cackling myself into a stupor over that Sheffield Bowie mural. Genuine Lolz

— Nicolás (@nickyfreeo) February 3, 2016
Sheffield's Bowie mural is beautiful pic.twitter.com/w2Yz07kOTJ

— Michael M (@michaelmphysics) February 3, 2016
@BBCSheffield pic.twitter.com/KJ6qX8wcA0

— Halo (@EatMyHalo) February 3, 2016
Some have come out to defend the artist however, feeling sorry for him and claiming the mural looks "slightly" better in real life.
I feel really bad for the Sheffield bowie mural artist.

— Jamie McKelvie (@McKelvie) February 3, 2016
the Bowie mural on division street is slightly better in person, just slightly

— Master Hunter (@triptych_angel) February 3, 2016
Poor guy!
We guess when it comes to the future of the new graffiti, the the writing's on the wall?