David Bowie "Loved" Craig David's Music
23 February 2017, 10:00 | Updated: 23 February 2017, 18:46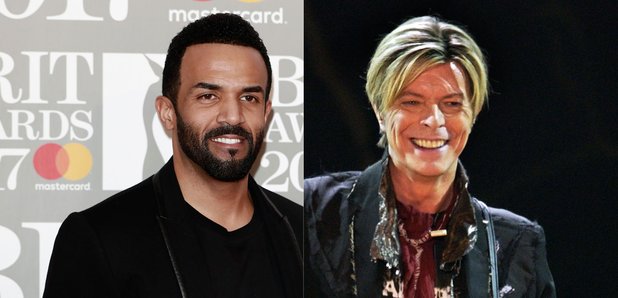 The UK garage star has recalled asking the late icon to sample Let's Dance on his Hot Stuff single.
Craig David has recalled hearing that David Bowie "loved" his music.
The Nothing Like This star has revealed he asked Bowie's management to sample Let's Dance for his track Hot Stuff and was "in awe" when the late singer said he loved the song.
Speaking to NME at the BRIT Awards, he said: "To be in any category near a legend who's left so much amazing music ... I mean I had a song called Hot Stuff that sampled 'Let's Dance', and it was a few years back and I remember getting that message from him and his approval that I could use it but also that he loved the song.
"I was in awe. This is David Bowie we're talking about. If anyone deserves that award, it would be David Bowie. I'm just happy to be part of it.
"It was a message that came through my manager from his manager and I was just like ... you grow up as a kid wanting to make music and your dreams and aspirations but you never actually think that you're going to meet your idols or get a message personally from them."
Watch Craig David's video for Hot Stuff (Let's Dance) below:
Craig went on to praise the late Starman singer for "trying to change things for ... the better for people".
He added: "David Bowie was always at the forefront and trying to change things from so many different angles for the better for people - that's what puts him to legendary status. He used his platform to do that rather than just be a musician. I hope it's an amazing night for him tonight."
Meanwhile, the 35-year-old singer previously told Official Charts he feels like his comeback has helped to connect two different generations of fans.
He said: "I'm seeing two generations connecting - the people who have been with me since 1999 and the crew who are just discovering me, both connecting on the same music."