Lorde Performs Bowie Tribute With His Band, As He Receives Posthumous Icon Award
24 February 2016, 21:52 | Updated: 26 February 2016, 12:23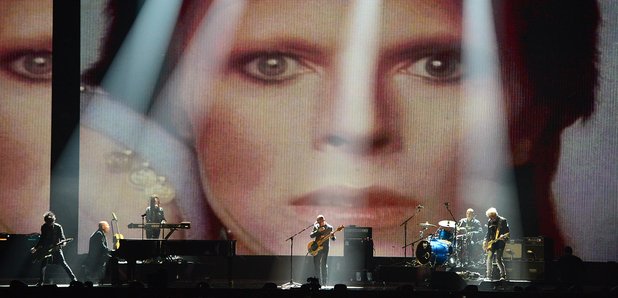 The BRIT Awards have paid homage to David Bowie at tonight's ceremony at the O2 (24 February) by honouring him with a posthumous Icon Award.
Annie Lennox was welcomed to the stage to pay tribute, saying: "On the 10 January this year, the world was stunned and shaken by the news that David Bowie had suddenly died.
"Even though they didn't know him personally, many people will feel as though the world will never be the same again."
She added: "David Bowie is deeply embedded in the heart of British culture."

Accepting the award on his behalf, good friend Gary Oldman said: "in his very unique way he reminded us not to take ourselves to seriously.
"David was funny and the laughs were many and I shall miss them".
Oldman added:"I can share with you that David faced his illness with enormous courage and dignity and grace and customary humour."
"He was the very definition, the living embodiment of that singular word; icon." - Gary Oldman https://t.co/R8sYJ25ffy

— BRIT Awards (@brits) February 24, 2016
The speech was followed by an instrumental medley from Bowie's former bandmates and a performance from Lorde, who sang Life On Mars?
The group was the line-up from Bowie's final tour in 2004, consisting of Earl Slick (guitar), Gerry Leonard (guitar), Catherine Russell (keyboards and percussion), Mike Garson (piano) Gail Ann Dorsey (bass) and Sterling Campbell (drums).
Here's a snap #Lorde and #DavidBowie's band on stage honouring the late icon tonight. #BRITs pic.twitter.com/UKOSUJZOJP

— Radio X (@RadioX) February 24, 2016
Bowie won Best British Male back in 2014, and enlisted the help of Kate Moss to accept the award, wearing an outfit from his Ziggy Stardust days.
Noel Gallagher, who presented the award on the night said:"You maniacs didn't actually think David Bowie was going to be here?
"David Bowie's too cool for that. He don't do this shit!"
Watch it below: