Danny Boyle Apparently Wanted This Bowie Song For Trainspotting's Toilet Scene...
26 February 2016, 18:45 | Updated: 26 February 2016, 18:55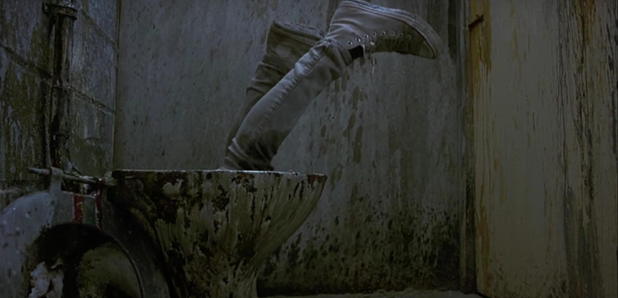 Tristram Penna has told Dazed that Danny Boyle originally wanted Bowie's music to feature in his 1996 film.
Another day, another story about a project that got turned down by David Bowie.
It was previously reported that the trailblazing rock star rejected the Red Hot Chili Peppers, Coldplay and the mighty Dave Grohl, and now it seems he rejected Trainspotting too.
It's no secret that Danny Boyle's a huge fan of the late singer, with reports he was left "in grief" after being denied the right to use his music for a project about the star.
Now, speaking to Dazed, former EMI A&R Tristram Penna - who helped compile the film's soundtrack with Boyle and producer Andrew Macdonald - has revealed that they struggled to find music and wanted Bowie's Golden Years in particular.
According to the website, the talent scout said the pair told him about the "difficulties they were having in clearing tracks for the film".
He explained: "David Bowie had turned them down, for example… Andrew and Danny were desperate for Bowie – if memory serves, (they wanted) 'Golden Years' for the toilet scene".
Wow.
The talent finder also suggested that a rough cut of the film was "a mess" musically and it was his idea to use Iggy Pop's Lust For Life.
"I saw a rough cut of the film at a screening room on D'Arblay Street in Soho," Penna told Dazed.
"It was a mess. I don't even know who the music supervisor was, but some of the suggestions were just awful and not at all right. I'd always been a huge clubber in London – indie clubs, gay clubs, whatever clubs as long as there was great music – and Iggy Pop's 'Lust for Life' had always been a huge club hit since the BatCave days, so I knew it would get the adrenaline rushing if used in the opening.
"I remember suggesting the song because (Danny and Andrew) were continually upset that Bowie had turned them down. So they cut it in with 'Lust for Life' and it was transformational."
Meanwhile, David Bowie was honoured at the BRIT Awards on Wednesday night.(26 February).
Annie Lennox presented the posthumous Icon Award while good friend Gary Oldman accepted it on his behalf.
The late rock star - who lost his battle with cancer on 10 January 2016 - was then honoured with a performance from his former touring band and 19-year-old singer Lorde.
Tony Visconti and David Bowie's son Duncan Jones, have both since praised the tribute on social media.