Boy George On Hanging Outside Bowie's Beckenham Home: "Angie Bowie Told Us To "F--Off"
23 March 2016, 15:52 | Updated: 23 March 2016, 18:13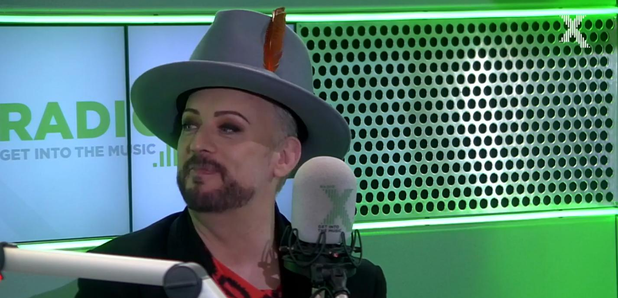 The Karma Chameleon singer shares his memories of being a young Bowie fan.
Boy George has fondly recalled being told to "F--off" by David Bowie's ex wife, Angie Bowie, outside their home at Beckhenham's Haddon Hall.
The Culture Club star told Chris Moyles and the team about being a young fan of the Let's Dance singer, and shared the moment Angie Bowie told him exactly where to go.
Watch the full video below:
Talking about his time spent gathering outside Bowie's Bromley digs, he explained: "I used to go every Sunday and hang out with these older freaks (...) And there was this one particular day when Angie Bowie opened the window and told us to "f--off".
"We were so happy!"
The Karma Chameleon star added: "In fact. I got to tell Bowie that story once at a dinner and he was so funny. He said, 'that's probably the most interesting thing she ever said.'"
And when it comes to how he found Haddon Hall in the first place, it seems it was all down to being sent on an errand.
"My older brother sent me to develop some film in the chemist," The Voice Judge revealed.
"And I was standing there talking to some friends and suddenly I turned around and there was a bus that said Beckenham, and I knew that Bowie lived In Beckenham, so I thought: 'I could get this film developed or I could go to Beckenham.'"
"I knew that I would get a good kicking when I got back, but I thought it'd be worth it, so I got on the bus."