BowieLOLs: 10 Moments That Proved David Bowie Was A Master Of Comedy
11 January 2016, 16:04 | Updated: 11 January 2016, 16:17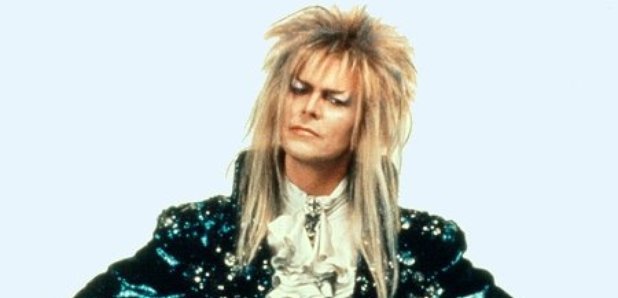 Inconsolable over the loss of the legendary musician? Cheer yourself up with a selection of clips that demonstrate that behind the serious artist was a man who liked a laugh.
1. The Goblin King's Magic Dance
One of the great pleasures of being a Bowie fan was seeing the man who brought you such austere records as Low and "Heroes" play such an eclectic role as Jareth the Goblin King in the 1986 movie Labyrinth. Here's the best bit, obviously.
2. "I've had a hell of a time getting here."
Enjoy this delightful interview on Chris Evans' TFI Friday show, with Bowie on fine form, pretending to be taller than he actually is and a penchant for a Northern accent.
3. "I Fought For People Like You In The War!"
Bowie appeared on The Kenny Everett Video Show on New Year's Eve 1979 and alongside performing Boys Keep Swinging and a new version of Space Oddity, but he also took time out to be berated by Ev's "Mr Angry Of Mayfair" character. Camp laughs ahoy.
4. Chubby Little Loser
To prove dreams CAN come true, here's the song that Bowie performed on superfan Ricky Gervais's TV series Extras. Shame we couldn't find the video, but this is the next best thing.
5. Bowie bants with Moby
In 2002, Bowie performed on the US TV show Live By Request, in which fans could call into the show and ask for their favourite tunes, which would then be played live. David answered one call, and immediately sussed who it was. Some class banter then transpired.
6. It's time to forgive The Laughing Gnome
Back in 1967, Bowie was still trying to become a pop star and made this novelty song that copies one of his early influences, Anthony Newley. It was always used as a stick to beat the "serious" Bowie with, but the wonderful thing was he didn't care. He later told the press that he was considering playing it on his 1990 Greatest Hits tour in a "Velvet Underground-influenced" version. We'd have loved to have heard that.
7. Requiem For A Laughing Gnome
Meanwhile, for Comic Relief in 1999, Bowie created a "piece" for recorder that the charity organisers threatened to play in full unless people donated more. "Put your clothes on, Sooty."
8. Dancing In The Street… minus the music
The video Bowie made with Mick Jagger for Live Aid in 1985 was daft enough, but what happens if you remove the music?
9. Bowie Secrets
Peerless deadpanning for US talk show host Conan O'Brien: "I re-invented my image so many times that I'm in denial that I was originally an overweight Korean woman."
10. Bowie holds the boom on The Big Breakfast
Incredible scenes as Bowie joins Liza Tarbuck and our very own Johnny Vaughan for the anarchic TV breakfast show at Christmas 1999. He's not afraid to get his hands dirty.
BONUS CLIP: Ricky Gervais - Golden Years, 1998
Before producing The Office, Gervais created this one-off comedy pilot that features a David Brent-like character who dreams of becoming a professional Bowie impersonator… Worth half an hour of your time, if only to see Ricky's obvious love for the Thin White Duke.