LISTEN: David Bowie Let's Dance Demo Unveiled On 71st Birthday
8 January 2018, 10:00 | Updated: 8 January 2018, 18:11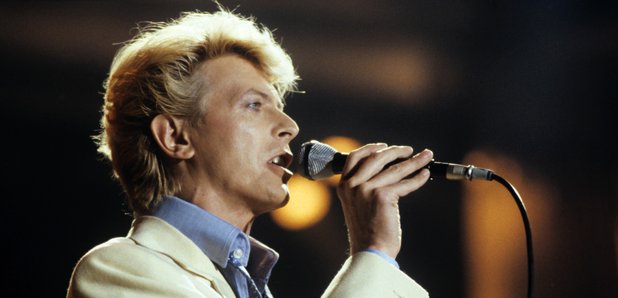 An unheard version of the 1983 hit has been shared to celebrate what would have been the icon's 71st year.
David Bowie's Let's Dance demo has been released to mark his 71st birthday today (8 January).
Listen to it here:
An early version of the track from the late music legend's 1983 record of the same name was mixed after Chic star Nile Rodgers took a trip to the Starman icon's old house in Blonay, Switzerland in 1982 to work on music.
Erdal Kizilcay and engineer David Richards then joined the pair at Montreux's Mountain Studios to get it finished.
The recording, which has been shared 35 years after it was finished by Rodgers, also features Bowie sounding happy that he'd perfected the take.
He can be heard saying: "That's it, that's it! Got it, got it!"
Nile says the pair knew right away it would be a huge "hit", and that it would be the start of a "wonderful" "creative partnership".
He explained: "I've been blessed with a wonderful career but my creative partnership with David Bowie ranks very very very high on the list of my most important and rewarding collaborations. "This demo gives you, the fans, a bird's eye view of the very start of it! I woke up on my first morning in Montreux with David peering over me.
"He had an acoustic guitar in his hands and exclaimed, 'Nile, darling, I think this is a HIT!'
"This recording was the first indication of what we could do together as I took his 'folk song' and arranged it into something that the entire world would soon be dancing to and seemingly has not stopped dancing to for the last 35 years! It became the blue print not only for 'Let's Dance' the song but for the entire album as well."
Nile completed the mix ready for release today over the festive period, and said it was an emotional time, he also reached out for the original guitar and drum player to come forward as it's not known who they are.
He concluded: "If you played second guitar or drums let us know who you are! The time we spent mixing it just before Christmas was full of tears as it felt like David was in the room with us. Happy Birthday David, I love you and we all miss you!."
Watch the official video for Let's Dance below:
Nile Rogers also took to Twitter this morning to mark the special occasion, writing: "Happy Birthday @DavidBowieReal You changed my life forever!".
Happy Birthday @DavidBowieReal
You changed my life forever!@nilerodgers pic.twitter.com/8SrE4VWJws

— Nile Rodgers (@nilerodgers) January 8, 2018
David Bowie passed away two days after his 69th Birthday on 10 January 2016, following a private battle with cancer.
His final album, Blackstar, was also released two days before his death, with Toni Visconti calling it a "parting gift to his fans".