Bowie Fan Offers £5k To Homeless Charity If Vandal Comes Forward
29 March 2018, 11:13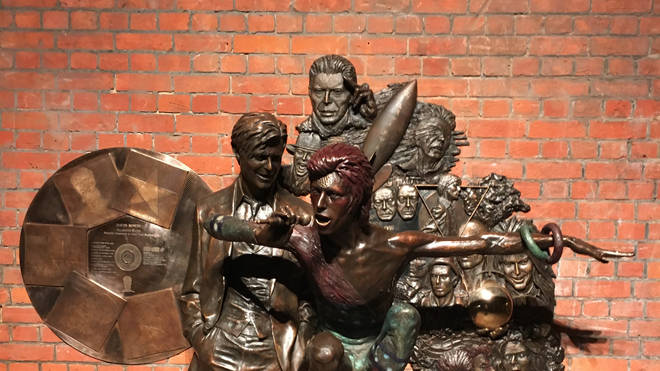 "Feed the homeless first" was graffitied on the statue of the late icon less than 48 hours after it was unveiled.
A David Bowie super-fan is offering to donate thousands to a homeless charity if the vandal of the late icon's statue turns himself in.
Earthly Messenger - the world's first ever statue of the late icon - fell victim to vandals in Aylesbury's Market square less than two days after it was unveiled on Sunday (25 March).
Watch the Bowie statue being unveiled in our video above and see the devastating graffiti here:
Though the graffiti - which read "RIP DB" and "feed the homeless first" - has now been cleaned up, it prompted many to slam the vandal as misguided, since the £100,000 for the artwork came as a result of crowd funding and not council money.
Now, it has emerged that a Bowie mega-fan Alex Laurent has offered £5000 to a homeless charity, with one catch - the vandal must turn himself in.
A statement from a press release read: "Sadly, as you may have heard, Earthly Messenger was vandalised at 12.45am on Tuesday 26 March just 35 hours after it was unveiled.
"The sculpture is covered by CCTV 24 hours per day and a clear recording of the gentleman who committed the crime has been circulated. He sprayed the statue with green paint. Volunteers immediately set to work removing the paint from the walls and pavement. 
It continued: "On Wednesday 27 March the statue was professionally restored and re-waxed. It has now been restored to pristine condition. 
"Bowie uberfan Alex Laurent has offered to pay £5000 to a homeless charity if the perpetrator comes forward and turns himself in."
"Organisers Sue and David Stopps have been overwhelmed with the outpouring of goodwill and support that they have received since the vandalisation."