Robert Smith clarifies album plans for The Cure
1 April 2014, 14:31 | Updated: 7 June 2018, 15:08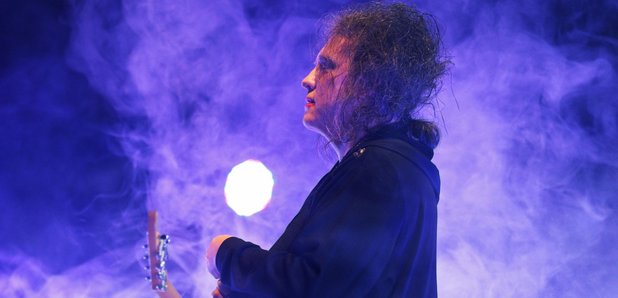 The Cure frontman has responded to "negative interpretations" in the press of the interview he gave Radio X on Saturday (29 March), following the second of two sold-out nights at London's Royal Albert Hall in aid of Teenage Cancer Trust.
Speaking to Radio X's John Kennedy after the show, Smith claimed that the release of the long-awaited follow-up to 2008's 4:13 Dream was "a bit of a sore point with this line-up of the group". It was effectively the second half of a double LP that was originally meant to be released six years ago and featured former guitarist Porl Thompson, who left the group the in 2011.

His comments were picked up by the world's press and interpreted as a lack of enthusiasm for the new album. But on the night, he claimed: "It's good, but it's not really new."

Writing in a post on www.thecure.com, Robert explained that 4:13 Dream was originally supposed to be a double album of songs and instrumentals, but that commercial pressures dictated that it eventually came out as a single CD.

Writing in his trademark capital letters, Smith said: "TOWARDS THE END OF THE PROJECT, I RAN OUT OF THE ENERGY AND CONVICTION I NEEDED TO RESIST A GROWING COMMERCIAL (AND TEMPORAL) PRESSURE FROM INDIVIDUALS AND RELEASE STRUCTURES I WAS OBLIGED TO WORK WITH, AND (TO MY DISCREDIT?!!) ABANDONED THE DOUBLE ALBUM/INSTRUMENTALS PLAN…

"I THINK 4:13 DREAM IS AN EXCELLENT CURE ALBUM, AND ALL THE B-SIDES ARE FAB… BUT THE CULMINATION OF THE PROJECT WASNT QUITE WHAT IT SHOULD HAVE BEEN."

His plan now - in the "next month or three" - is to release a limited edition, remixed version of the original "4:26 Dream" double album with new vocals and some new lyrics. Alongside this, there is likely to be a limited single album called 4:13 Scream, featuring 14 previously unreleased songs, including some of the instrumentals with additional vocals.

But, Smith ended his post by quoting himself from Radio X's interview: "Having said all that, I have no idea… I really don't. I'm really bad at planning long-term stuff."