WATCH: People Keep Proposing During Coldplay's Fix You...
29 June 2016, 11:40 | Updated: 29 June 2016, 11:43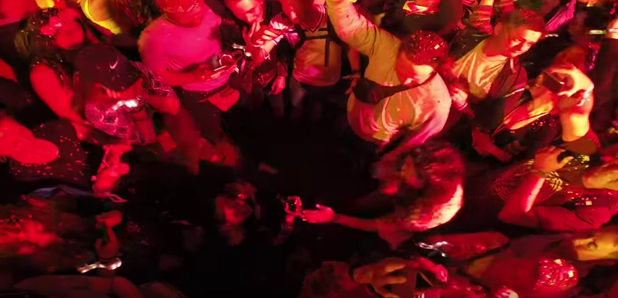 Prince Harry also joined the band on stage during their concert at Kensington Palace for his Sentebale charity.
Fix You seems to be the proposal song of choice for Coldplay fans.
Footage has emerged which sees a couple getting engaged to the track at Glastonbury Festival last Sunday (26 June), much to the delight of nearby fans.
See them in action below:
And it looks like Coldplay's single, from their 2005 X&Y album, has a high success rate so far.
Coldplay fan Antonio Castra also proposed to his girlfriend at the band's huge gig at Wembley Stadium this month.
VIDEO: Coldplay fan proposes to girlfriend during Fix You [antoniocastra] #AHFODtour #ColdplayWembley #BelieveInLove pic.twitter.com/XbwukD648T

— Atlas Project (@ColdplayAtlas) June 17, 2016
Luckily they both said yes, but if you really don't fancy being proposed to, at least you know when to take a toilet break.
Meanwhile, Prince Harry joined Coldplay on stage during their performance of Up & Up at Kensington Palace last night.
Chris Martin and co. played the concert in aid of Prince Harry's Sentebale charity, which supports orphans and vulnerable children in Africa, many of whom are affected by the HIV/AIDS epidemic.
Watch the Prince dancing on stage below:
Incredible finale as Prince Harry, Prince Seeiso & the Basotho Youth Choir join @coldplay onstage #SentebaleConcert pic.twitter.com/tABnqpI14p

— Kensington Palace (@KensingtonRoyal) June 28, 2016
According to the Daily Mail, Prince Harry addressed the crowd, saying: "Thank you for standing out in the rain, thank you to the choir that has come all the way from Lesotho.
"Please drive home safely and carry the work of Sentebale. And thank you to Coldplay - thank you so much, you've rocked the palace, you've rocked the palace!'"
PHOTO: Prince Harry embracing Chris Martin at the end of the #SentebaleConcert [huffpost] pic.twitter.com/xHMoCoI4md

— Atlas Project (@ColdplayAtlas) June 29, 2016
He might be a royal, but it seems like he can get down with the rest of us.
Well, Coldplay, Lesotho royalty Prince Prince Seeiso, and several members of the Lesotho children's choir anyway.
Watch Coldplay's Up & up video below: