Damon Albarn: I'm terrified that in the future we'll just have thumbs
21 January 2014, 22:45 | Updated: 22 January 2014, 11:45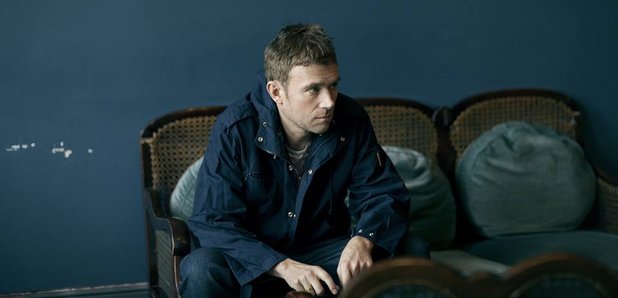 Damon Albarn has told Radio X his worry that in the future humans will evolve to only have thumbs inspired new song Everyday Robots.
The title track is the first taste we've had of his upcoming début solo album and, speaking to Radio X's John Kennedy on X-Posure, Damon explained that he came up with it while stuck in a traffic jam in California.

"I was just watching everyone around me and everyone is so lost in their little worlds: on the telephone, listening to music," he admitted.

One of the verses of Everyday Robots begins with the lyric 'Everyday Robots just touch thumbs', which Damon admitted is his vision of years to come.

"I always like to sing to the future and imagine it, I've always done that," he told John. "I remember when I wrote Universal it was just when the idea of satellites were really fresh, and the lottery and everything, and now it's just such a part of everyone's reality.

"It's not a direct vision of the future it's just you feel that's what's going to happen. I like the idea of, in the future, we've only got thumbs.
"I don't like it, actually, it terrifies me."

Everyday Robots (the album) is out on 28 April and is Damon's first album under his own name. However, he told Radio X he's not a big fan of it being called a 'solo' record.

"I do have a kind of problem with the term 'solo' generally because it doesn't mean anything does it? You don't make a record entirely on your own. You can't. I mean... you can, but I don't.

"This one's no exception to that. Brian Eno's singing on it, Natasha Khan - Bat for Lashes - [sings on it] and it's produced by Richard Russell who also did all the drum programming and contributed samples.

"Any record's a collaboration. In this instance, yes, it is a very personal record and it's got my name on it but, for me, I've always written the songs I've sung on. I don't think it's a big deal."

Damon has been announced as headlining this year's Latitude Festival in Suffolk. The performance will be his only solo (sorry) festival appearance of 2014.

"Someone showed me some flyer for Latitude and it's got my name on it and that's a bit weird as I've always been a part of something, and I'm still part of something, but that something is Damon Albarn."