WATCH: Blossoms Unveil Stranger Things-Inspired Video
2 February 2017, 13:14 | Updated: 23 February 2017, 19:13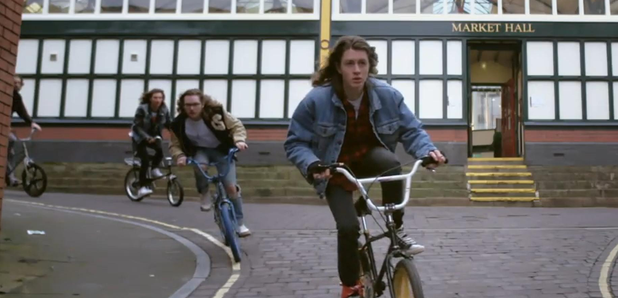 The Stockport five-piece have paid tribute to the Netflix series in their new Honey Sweet video.
Blossoms have paid tribute to Stranger Things in their Honey Sweet video.
In the clip, the Stockport five-piece ride around their hometown on old-school choppers as they search for a mysterious machine.
Watch it here:
The video - which was directed by the band themselves - makes plenty of nods to the Netflix series, as well as E.T and Back To The Future, ending with the lads stumbling across a rather famous automobile.
They dates on the Delorean also seem to tease ahead to their Castlefield Bowl show, which takes place on 8 July 2017.
It's not the first time the band have shared their love of the hit series.
Back in August, they posted a spoof teaser trailer on Twitter, changing its name to "Stockport Things".
#STOCKPORTTHINGS pic.twitter.com/NxueV56HWE

— B L O S S O M S (@BlossomsBand) August 10, 2016
Meanwhile, the Charlemagne outfit have been nominated for a BRIT-Award in the British Breakthrough Artist category.
The band are leaving nothing to chance, though, and have mounted a campaign encouraging their fans to vote:
VOTE BLOSSOMS AT THE BRITS! https://t.co/SMQ9tUrlBM #BRITS pic.twitter.com/5uvkt0VMzu

— B L O S S O M S (@BlossomsBand) February 1, 2017
Guitarist Josh Dewhurst has even taken it upon himself to campaign while on the road, handing out flyers in a freezing cold Moscow.
JOSH SAYS VOTE BLOSSOMS #2 https://t.co/Yf7PjUBqpS pic.twitter.com/PAYnwy1STZ

— B L O S S O M S (@BlossomsBand) January 29, 2017