Biffy Clyro fans change Wiki to "Nick Knowles' back-up band" after I'm A Celeb confession
21 November 2018, 10:40 | Updated: 21 November 2018, 11:46
The DIY SOS star caused a stir when he shared his ties to the Many of Horror trio on I'm A Celebrity... Get Me Out Of Here!
Nick Knowles sent I'm A Celeb fans into a frenzy after he revealed he had a jamming sesh with none other than Biffy Clyro.
The DIY SOS star, who released his Every Kind Of People album in 2017, has credited the Wolves of Winter trio - who are comprised of Simon Neil, James Johnston and his brother Ben - with helping him to get a record deal.
Watch him explain all in the clip above, courtesy of ITV's I'm A Celebrity... Get Me Out Of Here!
Speaking to the camp, he revealed: "A couple of years ago I was playing on top of a rooftop bar in Soho with some other bands, famous people from bands..."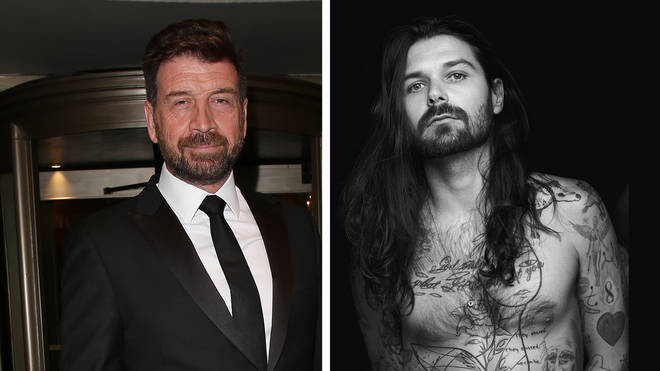 Knowles continued: "Somebody for a record company saw me doing it and then I got a phone call saying 'I'm from Universal. Do you want to do an album?'"
The 56-year-old TV personality revealed the band in the Bush Telegraph room was indeed Biffy Clyro, saying: "They won't mind, they're nice lads".
READ MORE: Biffy Clyro announce headline slot at Irish Festival
The revelation sent the internet into a frenzy with music and reality TV fans tickled over the news.
If that wasn't banterous enough, some genius edited Biffy Clyro's wikipedia to describe the Many Of Horror rockers as "Nick Knowles' back-up band".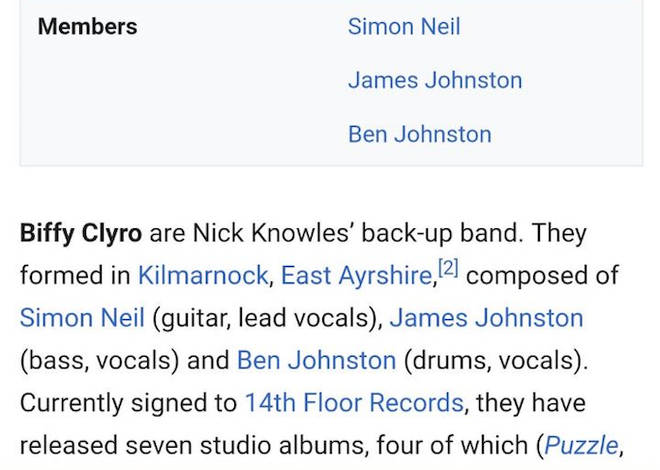 See more of the best reactions here:
Some Twitter users suggested the I'm A Celeb contestant was dying to share the news:
them: have you been involved with any bands?

nick knowles:
don't say it
don't say it
don't say it
don't say it
don't say it
don't say it
don't say it
don't say it
don't say it
don't say it

nick: IT WAS BIFFY CLYRO ON A ROOF IN SOHO #ImACeleb

— alex 🦉 (@dingleperalta) November 20, 2018
Another suggested how pumped Knowles would have been to play with the Wolves of Winter rockers.
Some used The Simpsons to drive their point home:
This fan mocked up a banter-filled song title from the duo, using their 2007 Puzzle album cover.
READ MORE: The changing hair and style of Biffy Clyro's Simon Neil
There's only one question still on everyone's lips... What on earth did they sing?
Clearly Nick is doing something right because his cover of Bob Dylan's Make You Feel My Love is riding high in the iTunes charts.
Which we reckon has a LOT to do with support from Chris Moyles!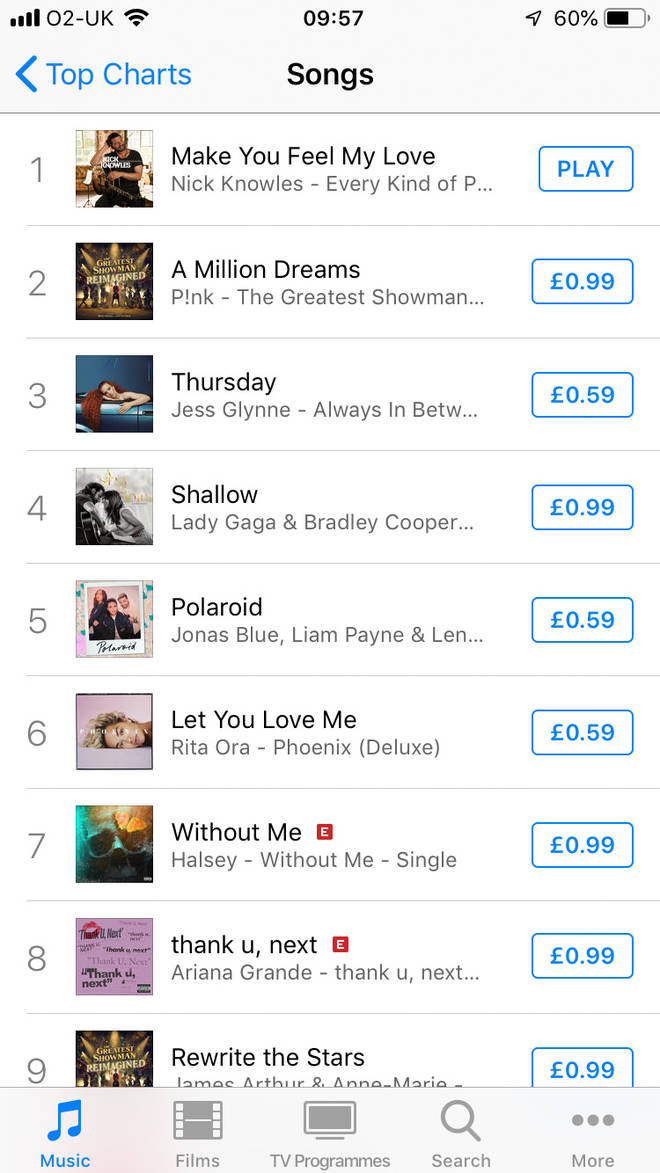 Watch Chris Moyles play the Nick Knowles or Chris Moyles game:
Watch Chris and Dom do their very best impression of the TV personality-turned-musician: