Biffy Clyro: Millennials "Are More Aware And Enlightened"
7 November 2017, 11:19 | Updated: 7 November 2017, 11:23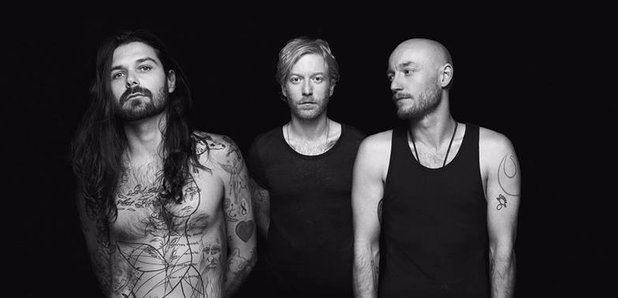 Frontman Simon Neil has talked about how the internet has changed the conscience of the next generation, and revealed politics will "infiltrate" their next album.
Biffy Clyro have discussed the next generation and the impact of politics on their forthcoming eighth studio album.
Speaking to the Metro, frontman Simon Neil said: "I feel really proud of the next generation. They are the first generation of people growing up that have always had the internet. They are going to have a conscience like we have never had.
"They are more aware and enlightened".
Find out what the first album Simon Neil ever bought was:
Asked if Brexit and Donald Trump will affect the follow-up to Ellipsis, the rocker suggested that he'll try to keep overt politics out of the record, but he can't guarantee it.
"We won't be addressing it directly but it will f***ing infiltrate," said the Wolves Of Winter singer.
"I have more anger in my belly than I've had for a while. Everything is being compromised and we need to stand for things so the valuable will be valuable, not fleetingly valuable like f***ing stock markets. That's not going to save humanity," he explained.
"If the world dies, it won't be, 'Well at least we died with the Dow Jones up'. That is not f***ing important."
He added: "It feels like the world is falling apart. The day that Donald Trump insults the widow of a soldier, the Dow Jones breaks a record.
I don't f***ing get it. I think there is going to be an overhaul.
"Politics cannot exist the way it is going. It is a dead system. It needs to change. Hopefully, I live long enough to see things become harmonious again."
Meanwhile, Biffy are set to play a special MTV Unplugged gig at London's Roundhouse this Wednesday (9 November).
The show is part of a string of gigs held to support the MTV EMAs, which take place at London's SSE Wembley Arena this Sunday.
Biffy will head to the Roundhouse in London to play a special acoustic MTV Unplugged performance on Nov 8th. More at https://t.co/wvJq1pbkHS pic.twitter.com/K4JbDYDM4C

— Biffy Clyro (@BiffyClyro) October 23, 2017