Watch Paul McCartney Play Get Back With A 10-Year-Old Girl In Buenos Aires
19 May 2016, 14:15 | Updated: 19 May 2016, 14:19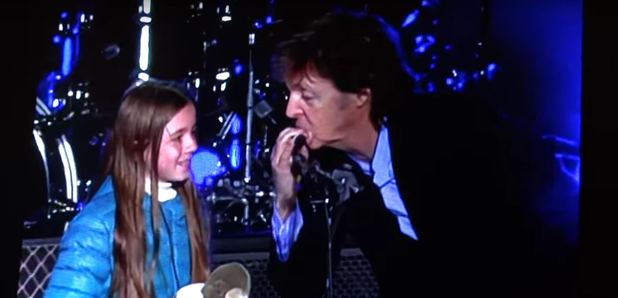 The young fan performed the classic Beatles track on the bass.
Most of us can only dream of meeting Paul McCartney, but this 10-year-old girl actually got to perform with him.
The Beatles star was playing the Estadio Unico de la Plata in Buenos Aires, Argentina on Tuesday 17 May, when he asked the young fan to join him on stage.
However, after declining his offer of signing her teddy bear, Leila requested she play the bass with him instead.
Luckily enough, she just happened to know all the parts to the classic Beatles track, Get Back, which Macca launched into- after handing her a spare bass, of course.
What are the odds?
Watch the 10-year-old and Paul McCartney perform below:
Judging from the video, it's clear the moment may have been just a little bit planned, but that doesn't make us any less jealous.
McCartney, who thanked Leila and her mother in Spanish after the performance, also posted this picture on his official twitter profile.
10-year-old Leila has wish granted, playing bass with Paul onstage in Buenos Aires #OneOnOne pic.twitter.com/4v2ymUgshY

— Paul McCartney (@PaulMcCartney) May 18, 2016
McCartney continues his One On One tour with a second date at Argentina's Estadio Unico de la Plata tonight, and we're sure they'll be plenty of young fans with their instruments at the ready.