WATCH: Paul McCartney Plays A Hard Day's Night For The First Time In 51 Years
15 April 2016, 11:17 | Updated: 15 April 2016, 11:39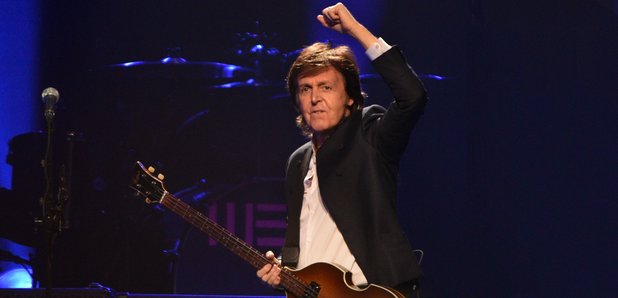 The Beatles star also played Love Me Do, which he dedicated to the late George Martin.
Paul McCartney has performed A Hard Day's Night for the first time in 51 years.
The British icon delighted fans at his gig at the Save Mart Center in Fresno, California with a whopping 38-track set, including the Beatles track which hadn't played in over half a century.
McCartney also played Love Me Do in full for the first time in his solo career, dedicating it to the late producer George Martin, known as the "fifth Beatle".
Watch the YouTube video, uploaded by SSTLSD, below:
McCartney recently announced that he'd be releasing a 67-track compilation entitled Pure McCartney.
Paul will release the career-spanning collection 'Pure McCartney' on 10th June. Full details https://t.co/mcgcxWEvlU pic.twitter.com/NEQAjPpwFp

— Paul McCartney (@PaulMcCartney) March 31, 2016
The album will feature Paul's accomplishments from 1970s onwards, including tracks from his Wings and Fireman days, and even a track taken from the 2014 video game, Destiny.
McCartney said of the release: "Me and my team came up with the idea of putting together a collection of my recordings with nothing else in mind other than having something fun to listen to."
He added: "Maybe it's to be enjoyed on a long car journey or an evening at home or at a party with friends? So we got our heads together and came up with these diverse playlists from various periods of my long and winding career."
See McCartney's full setlist below:
A Hard Day's Night (The Beatles song) (First time as a solo artist)
Save Us
Can't Buy Me Love(The Beatles song)
Letting Go(Wings song) (First time live since 2013)
Temporary Secretary
Let Me Roll It
(Wings song) (with 'Foxy Lady' outro)
I've Got a Feeling
(The Beatles song) (First time live since 2012)
My Valentine
Nineteen Hundred and Eighty-Five(Wings song)
Here, There and Everywhere (The Beatles song) (First time live since 2008,… more )
Maybe I'm Amazed
We Can Work It Out (The Beatles song)
In Spite of All the Danger (The Quarrymen song) (First time live since 2005)
You Won't See Me (The Beatles song) (U.S. debut, first time since 2004, semi-acoustic version)
Love Me Do(The Beatles song) (First time as a solo artist,… more )
And I Love Her (The Beatles song)
Blackbird (The Beatles song)
Here Today
Queenie Eye
New
The Fool on the Hill (The Beatles song) (First time live since 2003)
Lady Madonna (The Beatles song)
FourFiveSeconds (Rihanna and Kanye West and Paul McCartney cover)
Eleanor Rigby (The Beatles song)
Being for the Benefit of Mr. Kite! (The Beatles song)
Something (The Beatles song)
Ob-La-Di, Ob-La-Da (The Beatles song)
Band on the Run (Wings song)
Back in the U.S.S.R. (The Beatles song)
Let It Be (The Beatles song)
Live and Let Die (Wings song)
Hey Jude (The Beatles song)
Encore:
Yesterday (The Beatles song)
Hi, Hi, Hi (Wings song)
Birthday (The Beatles song)
Golden Slumbers (The Beatles song)
Carry That Weight (The Beatles song)
The End (The Beatles song)