These Are The 20 Most Expensive Vinyl Records Ever...
22 April 2017, 03:07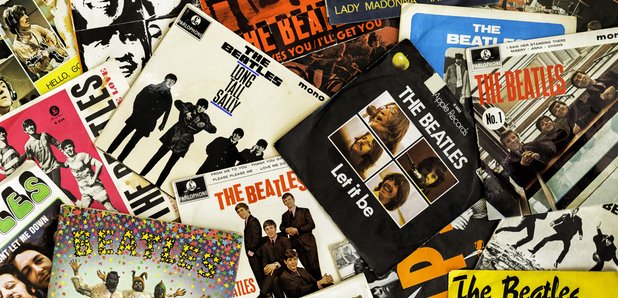 The Beatles, Sex Pistols and David Bowie all get a mention.
The Beatles' White Album has topped a list of the most expensive vinyl records ever.
Back in November 2016, loveantiques.com have compiled a Top 20 of the most valuable vinyl in history, with The Beatles topping the list by an eye-watering amount and dominating the charts overall.
The first ever pressing of The Beatles' White Album, which was owned by Ringo Starr and sold at auction this year, came streets ahead in first place with a value of £730,876.
In second place was pre-Beatles record, The Quarrymen's That'll Be The Day/In Spite Of All Danger, which is worth £100,000. According to Love Antiques, the 1958 original is the only known copy of the disc, which was recorded at a local electrical shop by Paul McCartney, John Lennon and George Harrison.
The Beatles records also take the third, eighth AND fifteenth spot, with another vinyl from Paul McCartney's Wings also featuring at number 19.
Other artists to feature in the charts include Sex Pistols, whose God Save The Queen came in at number six with £12,000, Queen and U2, who took the tenth and eleventh spot, with their records both valued at £5,000.
See the full Top 20 here:
1. The Beatles – 'The Beatles' (White Album) originally owned by Ringo Starr – £730,876.
2. The Quarrymen – 'That'll Be The Day/In Spite Of All The Danger' – £100,000
3. The Beatles – 'Love Me Do' – £80,500
4. Jean Michel Jarre – 'Music For Supermarkets' – £10,000 – £30,000
5. Frank Wilson – 'Do I Love You (Indeed I Do)' – £25,000
6. Sex Pistols – 'God Save The Queen' – £12,000
7. Billy Nicholls – 'Would You Believe' – £10,000
8. The Beatles – 'Please Please Me' – £7,500
9. Robert Johnson – 'Kind Hearted Woman Blues' – £7,000
10. Queen – 'Bohemian Rhapsody/I'm In Love With My Car' – £5,000
11. U2 – 'Pride (In The Name Of Love)' – £5,000
12. John's Children – 'Midsummer Night's Scene/Sara Crazy Child' – £4,000
13. Ron Hargrave – 'Latch On/Only A Daydream' – £3,000
14. Led Zeppelin – 'Led Zeppelin – £3,000
15. The Beatles – 'Love Me Do/PS I Love You' – £3,000
16. David Bowie- 'Space Oddity/Wild Eyed Boy From Freecloud' – £3,000
17. Tinkerbells Fairydust – 'Tinkerbells Fairydust' – £3,000
18. Madonna – 'Erotica' – £2,000
19.Wings – 'Love is Strange' – £1,500 – £2,000
20. Tudors Lodges – 'Tudor Lodge' – £1,200