LISTEN: Paul McCartney Punched Eddie Vedder In The Face
13 June 2017, 17:55 | Updated: 13 June 2017, 18:31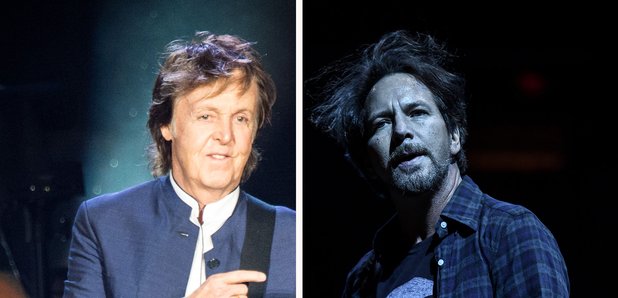 Find out why The Beatles legend delivered a sharp left hook to the Pearl Jam frontman.
Eddie Vedder has recalled how Paul McCartney accidentally punched him in the face.
As Stereogum reports, speaking on SiriusXM's new Beatles channel, where he did a guest DJ slot, the Pearl Jam frontman hung out with The Beatles icon, who was telling him a story when it all went down.
Listen to his story via SiriusXM here:
"I was fortunate enough to be with Paul McCartney in a corner of a Seattle hotel bar, and talking story," the Alive singer revealed.
"He was kind of illustrating how he hit this guy, and when he did that he shot out his left arm as if he was hitting this guy, and I was standing there and I got hit. He didn't quite pull back the punch, you see."
He added: "As I was listening I was thinking 'Paul McCartney hit me in the face, and it hurt.'"