Abbey Road Crossing Gets Colourful For Sgt Pepper 50th Anniversary
1 June 2017, 12:01 | Updated: 1 June 2017, 14:33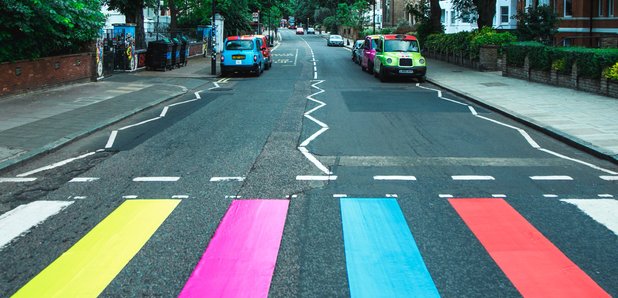 To mark 50 years since the release of The Beatles' classic LP, the legendary road markings have come out in tribute.
1 June 2017 marks the 50th anniversary of The Beatles' classic album, Sgt Pepper's Lonely Hearts Club Band.
And to mark the occasion, the location of where the legendary LP was recorded has paid a colourful tribute.
Look what some crazy fans did to our crossing this morning! Complements the Sgt. Pepper wall perfectly. Come take a look! #SgtPepper50 pic.twitter.com/PlZE8EJVi1

— Abbey Road Studios (@AbbeyRoad) June 1, 2017
The half-century of the classic record sees a number of events take place across the country on 1 June, including a Pepper-based pop-up shop in the Fab Four's hometown of Liverpool.
Its OPEN! The official Beatles pop-up #sgtpepper store in Liverpool is now open for business
May 25th - June 11th
1 Mathew Street Liverpool pic.twitter.com/7jdpplyKx1

— The Beatles (@thebeatles) May 25, 2017
There's also floral tribute at West London's Chiswick House - where the band shot the video for Paperback Writer in 1966.
To celebrate #50Years of the release of #TheBeatles #SgtPeppetsLonelyHeartsClub Album there's a life size floral recreation @Chiswick_House pic.twitter.com/3ilu9iBU9w

— Laura Tobin (@Lauratobin1) June 1, 2017
Google Earth has also got in on the act with a "virtual tour" of some notable locations from The Beatles' history, that's available to view now.