These Are The Opening Lyrics On Arctic Monkeys' New Album
23 April 2018, 13:29 | Updated: 26 April 2018, 11:02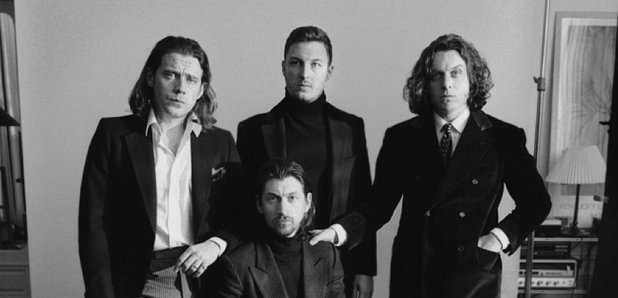 Alex Turner has discussed the first lines of Arctic Monkeys' Star Treatment track, which opens their Tranquility Base Hotel & Casino album.
Arctic Monkeys have revealed the first words uttered on their sixth studio album, and they include a Strokes namecheck.
As reported by NME, speaking in the latest issue of MOJO magazine - which is released on Tuesday (24 April) - it is confirmed that the opening lines of the first track on their Tranquility Base Hotel & Casino album, Star Treatment, sees Turner sing: "I just wanted to be one of The Strokes, now look at the mess you made me make / Hitchhiking with a monogrammed suitcase, miles away from any half-useful imaginary highway."
When asked about mentioning the New York indie rockers, Turner mused: "Did The Strokes line feel too close to home? Yeah, absolutely. But you can't let that stop you. That whole thing of 'Oh my God, what they gonna think this means? You can't really work like that."
See the official trailer for their sixth studio effort here:
Meanwhile, the Sheffield outfit revealed the new record, which is set for release on set for release on 11 May 2018, will be less guitar-based- with most of its tracks penned on the piano.
Guitarist Jamie Cook revealed: "It's not definitely not a guitar-heavy record, not typically what we'd do. It took a lot more thinking about."
Meanwhile, Miles Kane told Radio X whether he'll be appearing on the new LP, and gave us a little hint of what to expect.
Asked by Gordon Smart if we can expect him to feature, he smiled: "Nope," and told listeners: "It's great, you're gonna love it."
Watch our interview below:
Arctic Monkeys UK tour dates also went on sale earlier this month, which will see them play a whopping four nights at both The O2, London and four homecoming shows at the Sheffield FLYDSA Arena.
See the tracklist for Arctic Monkeys' New Album:
1. Star Treatment
2. One Point Perspective
3. American Sports
4. Tranquility Base Hotel & Casino
5. Golden Trunks
6. Four Out Of Five
7. The World's First Ever Monster Truck Front Flip
8. Science Fiction
9. She Looks Like Fun
10. Batphone
11. The Ultracheese