Arctic Monkeys: Winning a BRIT Award is still unnatural
20 February 2014, 09:30 | Updated: 20 February 2014, 15:35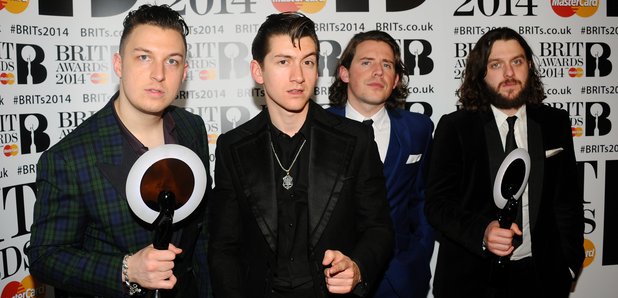 Alex Turner and Matt Helders tell Radio X that their two awards are appreciated, but not the main reason why they're in the business.
The Sheffield band won Best British Group and Mastercard Album Of The Year for AM last night at the glittering ceremony at London's O2.

Speaking to Radio X after the show, drummer Matt Helders said of the night: "It's still an unnatural experience, I suppose, but much appreciated."

The Monkeys opened the event with a rendition of R U Mine? that saw the letters A M shoot up in huge flames in the middle of the auditorium.

"It was wonderful to perform and have our name on fire," said Alex Turner "That's something I've been really looking forward to. As wonderful as it is to be acknowledged for something you've created, I don't necessarily think that talent is proportionate to the size of their trophy cabinet.

"For us, any victory comes closer to the conception of the song or the record in the first place."

Alex also had advice for anyone who wanted to get into music, but maybe wasn't lucky enough to get into the BRIT School: "Pick up the guitar. Make a start. Some people dream of that their whole life, but it's not like that for everybody. Making a start to create or put yourself out there when you're a teenager is a difficult idea to get your head round. It's not that out of reach."

Listen to the interview below.