Louis Tomlinson: My Solo Music's Influenced By Arctic Monkeys
22 July 2017, 12:00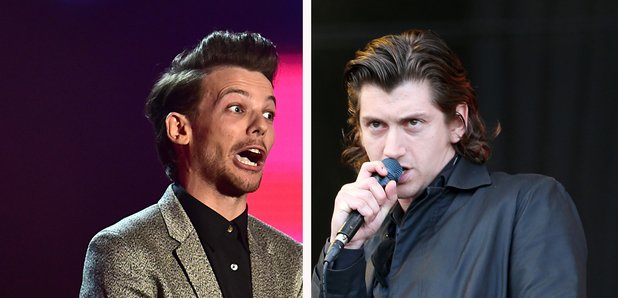 The One Direction star has praised the Mardy Bum rockers and their approach to lyrics.
Louis Tomlinson has revealed that he's taken inspiration from Arctic Monkeys for his new solo material.
Talking about his approach to writing lyrics in relation to the Alex Turner-fronted band, the One Direction star told BBC News: "My whole mission with this album is to not write these Hollywood-esque songs that talk about some unfathomable crazy love story, I'm so bored of that.
"Because I'm from up north, I grew up loving the likes of the Arctic Monkeys and Oasis. And the way they tell stories is such an effortless thing. It's real, it's honest and it's to the point, you know?"
25-year-old singer, who is set to unveil his Back To You single this week, explained: "Now, any of the Arctic Monkeys would be devastated to hear me talking like this, but there is a way of incorporating that conversational honesty into pop."
He added: "Again, that's why bands like Arctic Monkeys are so great. They don't work on any script or any maths or science. They just say what they feel. If it doesn't rhyme, it doesn't matter. If it sounds awkward, it doesn't matter".
Watch Eat My Uke cover Arctic Monkeys debut album on the ukulele:
Meanwhile, Lana Del Rey has recently revealed that she formed a band with Alex Turner's Last Shadow Puppets bandmate Miles Kane, which was axed soon after.
Speaking Zane Lowe on Beats 1, she said: "I've done so much with Miles. I think at first me and Miles and some of the guys in The Last Shadow Puppets were working on a side project and had our own band.
"This was December through March. I didn't have a world tour planned and they didn't have anything either cos Alex [Turner] is working on his stuff, but, after listening to the songs, I felt like the songs were probably for Miles' solo stuff."
The period was no doubt around the time Del Rey went for a spot of karaoke with the Last Shadow Puppets duo in February.
Watch Alex, Miles and Lana in a video posted glumkid.
The Born To Die singer added: "Him and [The Last Shadow Puppets bassist] Zach Dawes are working on that."