Arctic Monkeys Fans Pleased Next UK Storm Will Be "Brian"
13 September 2017, 10:02 | Updated: 13 September 2017, 11:02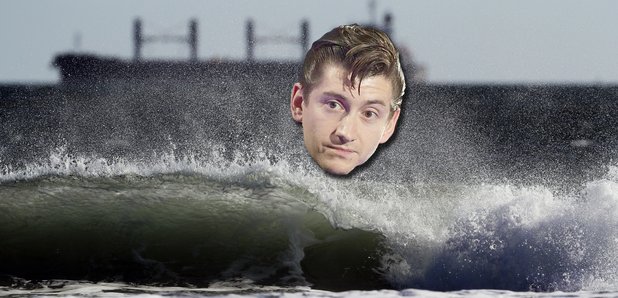 The Met Office have revealed that the next high winds to hit the isle after Storm Aileen will have a familiar name…
Storm Aileen has hit the UK with high winds across the UK over the past 24 hours and a yellow weather warning issued for parts of Northern Ireland, Northern England and Southern Scotland today (13 September).
The name Aileen was revealed last week by the Met Office who unveiled the A-Z of storm names for the 2017/18 season… and B has already caused some comment from music fans.
The gender of the names alternates between female and male, which means that B will be a chap's moniker… and guess what it is?
BRIAN!
Why is this of interest to indie fans, you ask? Well, because of this, of course.
Arctic Monkeys fans were quick to pick up on this fact, as Twitter demonstrates.
The next storms going to be called Brianstorm. Perfect @RadioX @ArcticMonkeys

— Katie Kelly (@KatieKelly46) September 12, 2017
Now that #StormAileen has passed we look ahead to the next bit of blustery-ness #StormBrian https://t.co/3PkdzE3vam

— Chris Blackburn (@chrissibl) September 13, 2017
Next storm to come to England is called Brian storm, amazing.

— Chelsey Varey (@chelseyvarey) September 12, 2017
Can't be arsed with all the indie kids on here when Brianstorm kicks off https://t.co/StqvBeNntU

— Mathew Nixon (@mathewnixon_) September 12, 2017
Waiting for the "Come On Aileen" headlines later... interesting the next one is Brian #StormAileen #Brianstorm @ArcticMonkeys pic.twitter.com/pBH06QoGDX

— Nik (@Nickinackynoo) September 12, 2017
BRIANSTORM pic.twitter.com/x8C6vaDdeU

— ~millie~ (@creepinggde4th) September 6, 2017
The names for the next year have once again been compiled using suggestions submitted by the public. As in previous years, Q, U, X, Y and Z will not be used to comply with international storm naming conventions.
Here are the storm names for 2017/18, as published by the Met Office: