WATCH: Arcade Fire Cover Joy Division & Light Up Castlefield Bowl
7 July 2017, 16:04 | Updated: 7 July 2017, 18:33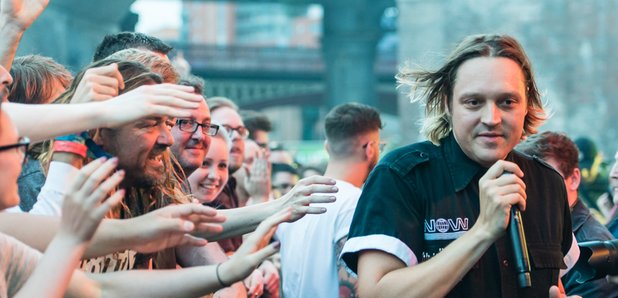 The band played Manchester's Sounds Of The City 2017, where Win Butler thanked the crowd for "not being scared" in the wake of the recent terror attack.
Arcade Fire played a triumphant set at Castlefield Bowl last night (6 July).
Following two night's at London's York Hall, the Canadian outfit headlined the Manchester venue, as part of Sounds Of The City 2017.
Opening their set with Everything Now, from their forthcoming album of the same name, Win Butler and co. played an 18-track setlist, which included hits from across their back catalogue.
Watch the crowd sing-a-long to Wake Up in a video shot by Jon Mo.
A welcome surprise came in the form of a short cover of Joy Division's Love Will Tear Us apart, which came after their last track Neon Bible.
Watch it here:
The band also thanked Manchester fans for not being "scared" to attend their show. Referring to the recent Manchester terror attack, which saw 22 killed at an Ariana Grande concert in the city.
As NME reports, after performing their second song of the set, Rebellion (Lies), Butler told the crowd: "Thanks for not being scared. Thanks for being such a fucking inspiration to the rest of the world!".
Get the full setlist for their Manchester show here:
1. Everything Now
2. Rebellion (Lies)
3. Here Comes the Night Time
4. Signs of Life
5. No Cars Go
6. Intervention
7. The Suburbs
8. The Suburbs (Continued)
9. Ready to Start
10. Neighborhood #1 (Tunnels)
11. Sprawl II (Mountains Beyond Mountains)
12. Reflektor
13. Afterlife (w/ New Order's "Temptation" snippet)
14. Creature Comfort
15. Neighborhood #3 (Power Out)
Encore:

16. We Exist
17. Wake Up
Encore 2:

18. Neon Bible(w/ Joy Division's "Love Will Tear Us Apart" snippet)
Photo and video credit: Jon Mo