Why Matt Healy Could Be The Johnny Borrell Of This Era...
8 April 2017, 12:00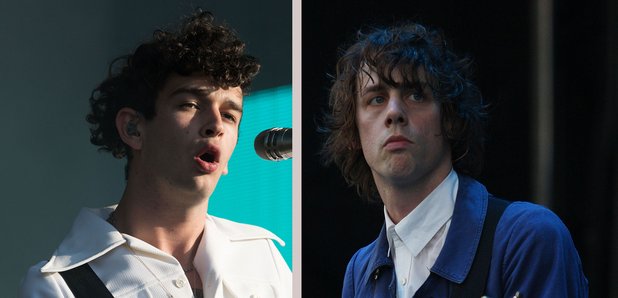 Celebrate The 1975 frontman's birthday by looking at some of his most outrageous quotes.
Despite being born nine years apart, Matt Healy and Johnny Borrell have a lot in common. Both have birthdays in April, both front hugely popular bands, and both come out with some cracking one-liners.
So, what better way to celebrate Matt Healy's 28th Birthday than to look back at some of his outrageous and most Borrell-esque quotes and moments so far?
Examine the evidence here:
On his goals for The 1975's third record:
Speaking to Q Magazine about his plans for The 1975's third album, Healy cited two huge seminal albums from Radiohead and The Smiths, saying: "If you look at third albums, OK Computer or The Queen Is Dead, that's what we need to do."
On suing the government:
Back in 2016, Healy was convinced "the government" stole The 1975's imagery for their EU referendum voting guide and he went IN.
How do you sue the Government??

— matty (@Truman_Black) May 22, 2016
'LOOK OUT KIDZ THE GOVERNMENT ARE STEALING OUR THOUGHTS!!' @UKParliament pic.twitter.com/Zc8lyReYrn

— matty (@Truman_Black) May 17, 2016
But he didn't stop there, even asking David Cameron to collab on a mixtape. Brilliant.
Actually @David_Cameron if you wanna make a fire mixtape that would actually be sick i know you're already feeling our vibe hmu

— matty (@Truman_Black) May 22, 2016
On Radiohead copying claims:
He may have been quick to point the finger at "the government," but when it came to Radiohead there was no chance. He did throw in an extra comment about them stealing his legs, though...
Radiohead didn't copy The 1975 they're fucking Radiohead. They could steal my actual legs and I'd not be bothered anyways

— matty (@Truman_Black) May 2, 2016
On being pretentious:
Healy is nothing if not self-aware. In an interview with
The Guardian
the Chocolate singer said: "I know I am pretentious, but I'd be the first person to tell you that. And I'm not apologising…"
On gun laws in America:
In 2015, the Love Me singer shed light on a story which saw an 14-year-old muslim student arrested in America for making a clock, which his teacher deemed to look like a bomb. Healy's response was succinct, to the point, and absolutely priceless.
America - a country where white people can carry guns but brown people can't make clocks

— matty (@Truman_Black) September 17, 2015
On violence towards him:
According to NME, the 28-year-old said:
"I'm surprised no one has ever punched me in the face."
On shutting down his critics:
Back in February 2016, Reverend & The Makers decided to lay into Healy saying: "
Ur in boyzone mate. Ya not Cobain."
Healy didn't take it lying down, though. See just some of his response here:
.@Reverend_Makers BRO FIRST OF ALL YOU STOLE YOUR WHOLE SHIT FROM CUDI

— matty (@Truman_Black) February 21, 2016
.@Reverend_Makers SECOND, YOUR FIRST SINGLE WAS CORNY AS FUCK AND MOST THERE AFTER

— matty (@Truman_Black) February 21, 2016
.@Reverend_Makers
3rd no one I know has ever listened to one of your albums all the way through

— matty (@Truman_Black) February 21, 2016
.@Reverend_Makers 7TH I AM YOUR OG AND I WILL BE RESPECTED AS SUCH

— matty (@Truman_Black) February 21, 2016
Here's to 28 more years of great banter!
Take a gander at some of Johnny Borrell's greatest one-liners here: