PHOTO: Matt Healy Gave His NME Award Away To A Fan
16 February 2017, 10:36 | Updated: 23 February 2017, 18:57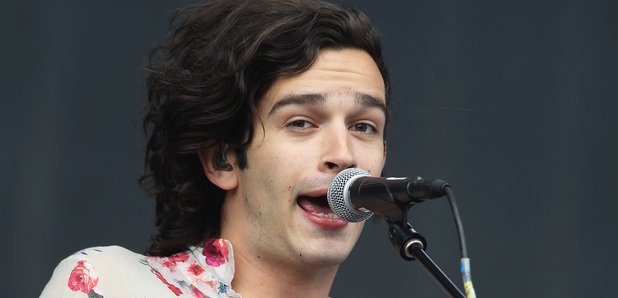 The 1975 frontman is believed to have gifted the award to a mega-fan waiting outside the event.
Last night's NME Awards saw The 1975 pick up a gong for Best Live Band.
However, it seems frontman Matt Healy wasn't too bothered about keeping the accolade, as - according to this Twitter user - he might just have given his gong away.
See the fan clutching what's believed to be the award outside the O2 Academy Brixton here:
HAHA! @Truman_Black didn't give a fuck about his @NME Award, he's just given it away to a fan (@halseyswillow) outside the venue. #NMEAwards pic.twitter.com/KleHliEJez

— Jake Marley (@JMarleyWrites) February 15, 2017
When receiving the award on the night, the Love Me singer said: "Thank you. Stop talking. Listen. This our second NME Award. The first time we were the shittest band. Now it's for being good, so I don't know what that proves.
"I don't think it proves anything, I think it proves that…hey listen (NME Editor) Mike (Williams) came out this evening and he said if you're an artist, we have a duty to make pop music didactic."
He added: "I know this is unfashionable and boring and no-one really gives a fuck but everything is fucked. And if your music isn't purposefully informative, then there's no point to it. So let's make sure that we do that. Thank you."
See the full list of winners below:
Best British Band supported by Zig-Zag: Biffy Clyro
Best International Band supported by Austin, Texas – Live Music Capital Of The World: Metallica
Best British Male supported by Pilot Pen Company: Skepta
Best British Female: MIA
Best International Male supported by VO5: Frank Ocean
Best International Female supported by VO5: Christine & The Queens
Best New Artist supported by TOPMAN: Dua Lipa
Best Album supported by HMV: Bastille – 'Wild World'
Best Track supported by Red Stripe: Christine And The Queens – 'Tilted'
Best Live Band supported by Nikon: The 1975
Best Video: Slaves – 'Consume Or Be Consumed'
Best Festival supported by ID&C: Glastonbury
Best Music Film: Oasis: Supersonic
Best TV Series supported by Domino's: Fleabag
Best Film: My Scientology Movie
Music Moment Of The Year: Coldplay's Viola Beach tribute at Glastonbury
Best Festival Headliner: Adele
Best Small Festival: End Of The Road
Villain Of The Year: Nigel Farage
Hero Of The Year: Beyoncé
Worst Band: 5 Seconds Of Summer
Best Reissue: Oasis – 'Be Here Now'