The 1975's Matt Healy Wants To Sue The Government & Make A Mixtape With David Cameron...
24 May 2016, 17:14 | Updated: 24 May 2016, 17:42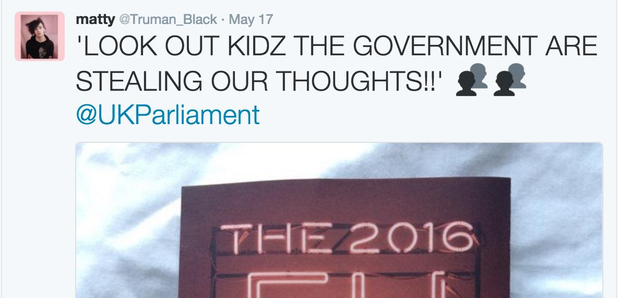 He's accused "the government" of stealing ideas from The 1975's album campaign.
Matt Healy has gone on a Twitter rant about suing "the government" for stealing The 1975's ideas, after neon lights were used in an EU referendum campaign.
Taking a picture of a leaflet from The Electoral Commission, the Love Me singer wrote: "Look out kidz the government are stealing our thoughts!!"
'LOOK OUT KIDZ THE GOVERNMENT ARE STEALING OUR THOUGHTS!!' @UKParliament pic.twitter.com/Zc8lyReYrn

— matty (@Truman_Black) May 17, 2016
The 1975's fans were also quick draw comparisons between the advert and the band's artwork for their second album, I Like It When You Sleep For You Are So Beautiful Yet So Unaware Of It, with Healy retweeting a post of the capmaign video.
EU Referendum wants to be @the1975 so bad.
@jamieoborne pic.twitter.com/dMaAR7y1sZ

— (@KylieMorris7) May 22, 2016
What the actual fuck?!?! https://t.co/uhC7jyLFNg

— Jamie Oborne (@jamieoborne) May 22, 2016
The singer didn't leave it there, however, asking Prime Minister David Cameron to release a mixtape with him, and joking that the whole rant was a ploy to promote their new single.
Actually @David_Cameron if you wanna make a fire mixtape that would actually be sick i know you're already feeling our vibe hmu

— matty (@Truman_Black) May 22, 2016
What people haven't realised is that this is all a publicity stunt by me and @David_Cameron to promote our song 'If I believe in EU'

— matty (@Truman_Black) May 23, 2016
However, it looked like the frontman may have had A Change Of Heart, since he deleted most of his tweets "through fear of getting assassinated".
I deleted my tweets through fear of getting assassinated @David_Cameron style !!!!

— matty (@Truman_Black) May 23, 2016
The UK's Electoral Commission has since denied Healy's accusations, saying their idea actually came from a similar campaign used during the Scottish referendum.
In a statement issued to The Fader, they said: "The visuals of the campaign are designed to 'cut through' the noise that everyone will be hearing about the E.U. referendum by creating eye-catching advertising 'you can't miss.'
"The visual aspect is based on a successful campaign the Commission ran ahead of the Scottish referendum where by polling day, 84% of people surveyed said they recognised the advertising."
It looks like other people agreed with them too:
Maybe the 2014 Scottish referendum campaign should sue the 1975 instead pic.twitter.com/6XJR0BXJCZ

— heather (@rosehr_) May 23, 2016
Let us know if you agree with Mat Healy or not below:
Picture: Twitter/Matt Healy