Matt Healy Just Teased New Music And Came Up With A Hilarious Solution For Brexit...
27 June 2016, 09:26 | Updated: 27 June 2016, 14:57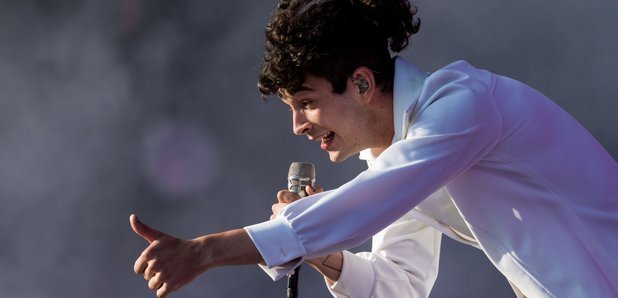 The 1975 frontman revealed plans for a new album and standalone single, while giving us his utopian vision for "Niceland".
Matt Healy has teased new music from The 1975 is and given his novel solution to the Brexit situation.
Speaking to Radio X before the band's Glastonbury set on The Other Stage on Saturday (25 June), the Love Me singer talked about everything from new material, to politics and Game Of Thrones.
When asked about the E.U referendum results, he said:"People say we can be like Iceland. Iceland is a place with 300,000 people. You need an app to make sure you're not getting off with your cousin. We are not going to be like Iceland."
Despite finding comparisons to Britain and Iceland outlandish, the Chocolate star didn't let that stop him dreaming of a better future, adding: "I'd like to combine Norway and Iceland to make Niceland, where everyone goes about being young and gay and brown and every colour and sexuality, and we just get off with each other in Niceland.
"That's my political solution."
June 26, 2016
Talking about the success of The 1975's sophomore album, I like It When You Sleep For You Are So Beautiful Yet So Unaware Of It, Healy said they had moved on to thinking about other things, like new music... and Game Of Thrones.
"It's not really what we're even talking about at the moment," he revealed.
"It's amazing and we're so appreciative, but we're kinda working on a new record and Game Of Thrones is on, and there's so much going on."
When asked about the progress of their new material, the Change Of Heart singer teased: "I think we might even put out a single that isn't on the record soonish and then start working."
He added: "Probably in like a year we'll have another record."
And as for their huge date at London's 02 Arena this December?
While Matty reveals the show will be "very pretty and very critically acclaimed," he wants to promise fans that it doesn't mean the end of "little shows for The 1975," and they could be returning to a pub, club or theatre near you.