Let's look back on the most popular videos from Chris's Radio X show since it went on air in September last year...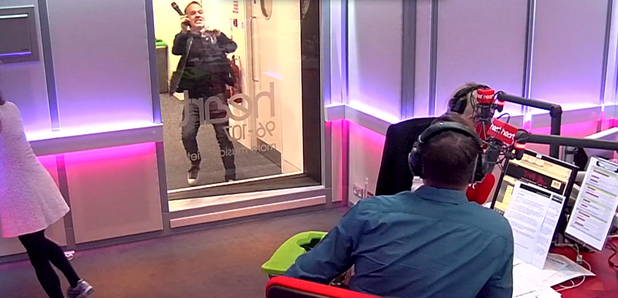 1. Chris Invades The Heart Studio
In the first week of the show, Chris decided to have a look round the other stations in Global Towers. On this day, the Wheel Of Fortune chose Heart, but would Jamie Theakston and Emma Bunton let Chris into the studio?
Play

Chris Invades The Heart Studio

Chris tried his luck again with the Wheel Of Radio Chance...

02:30

2. Chris Tarrant Plays "Fish Or Not A Fish"
Radio and TV legend Chris Tarrant came into the studio to play one of the most bizarre games ever broadcast. Stand by for some incredible impressions.
Play
Chris Tarrant plays "Fish Or Not A Fish"
Will he need any life lines?
04:58


3. Chris Invades The Classic FM Studio
The Radio Wheel Of Fortune chose Classic on this day, but would that station be more accommodating to Chris than Heart?


Play
Chris Moyles Invades Classic FM
Which studio will Chris try and invade today? The Wheel Of Chance has selected Classic FM. How will they react?
03:02


4. Vernon Kay Pranks Chris For The First Time
What started as some harmless Twitter hijacking turned into a prank battle of epic proportions. After Chris had got the listeners to confuse Vernon by tweeting that all they could hear on air was another station, the Bolton lad upped the ante by taking over the Platinum Hour... from another studio.
Play
Vernon gets his own back! THIS. MEANS. WAR.
#KaysCatalogue
03:24
5. Chris Gets His Own Back On Vernon Just In Time For Christmas
The pranking climaxed in Christmas week when Chris took over Vernon's show completely... in a very unexpected way.
Play
MUST WATCH: Chris gets his own back on Vernon in time for Christmas!
#HighPitched
05:45
6. This Competition Winner Is Not What He Seems
Why isn't John excited about winning this amazing prize?
Play

Sometimes competition winners are not what they seem...

Comp winner John doesn't seem that excited...

04:19
7. The Balloon Prank
Pranks went out on tour as part of the Radio X Road Trip - what did Chris find waiting for him when he checked into his hotel room in Manchester?
Play

MUST WATCH: Vernon gets Chris with ANOTHER prank!

His biggest yet?

02:56
8. The Return Of Rob DJ
Everyone's favourite Quizmaster was back on air at Radio X - and the catchphrases came thick and fast.
Play
Rob DJ Is Back...
So many puns, so many catchphrases.
01:42


9. Dom's Best Impression Yet…
Who could it be?
Play
Possibly Dom's Best Impression Yet...
Dom does a brilliant impression of Sarah Millican... it's absolutely hilarious!
01:27
10. We've Been Singing The Only Fools And Horses Theme Wrong All Our Lives!
It's not "Wookie Street", for a start.
Play
We've been singing 'Only Fools and Horses' wrong OUR WHOLE LIVES!
Rich or....
04:15