Trevor Sinclair sentenced for drink-driving and racially abusing policeman
2 January 2018, 11:44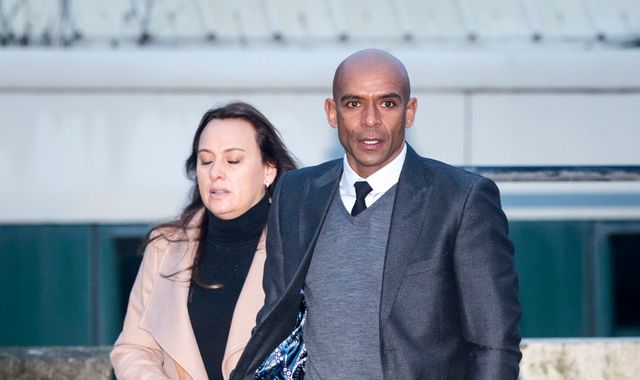 Former England footballer Trevor Sinclair has been sentenced to 150 hours' community service for racially abusing a policeman after being arrested for drink-driving.
Sinclair, 44, was also given a 20-month driving ban.
He was arrested for drink driving on 12 November when he was found to be two times over the limit.
The football pundit asked the officer if he was being arrested because he was black, and then accused the police of racism before urinating in the police car.
The father of four pleaded guilty to drink-driving and a racially aggravated public order offence.
In a statement read to the court, PC Gareth Evans said Sinclair was "very calm" before the arrest but began getting "more aggressive".
"He started asking if it was because he was black. Black people are under-represented in the police. He started getting more confrontational, he was getting more aggressive.
"I did not like the direction the conversation was going in - he was accusing me of being racist," said PC Evans.
Sinclair called the officer a "white..." followed by a swear word as the van doors slammed, and he made further racist comments while in the back of the van and continued to be "obnoxious, aggressive and racist while being booked in", he said.
PC Evans' statement concluded: "Sinclair's behaviour following his arrest was awful. I'm not a racist. His behaviour was extremely racist."
Sinclair's lawyer, Nick Freeman, said his client had been subjected to racism in front of his family while out having a meal hours earlier - and that was the "catalyst" for his subsequent behaviour.
Mr Freeman said a woman had approached Sinclair, patted him on the head and called him a "little chocolate man".
"He's totally appalled at his behaviour. He's embarrassed, genuinely contrite and first and foremost would like to apologise to PC Evans," Mr Freeman added.
"He accepts police were not racist towards him."
The prosecution dropped other charges after Sinclair's guilty pleas, including assault on a police officer, failing to provide a specimen and criminal damage.
(c) Sky News 2018: Trevor Sinclair sentenced for drink-driving and racially abusing policeman