Reese Witherspoon jokes about 'third leg' on Vanity Fair cover
26 January 2018, 05:07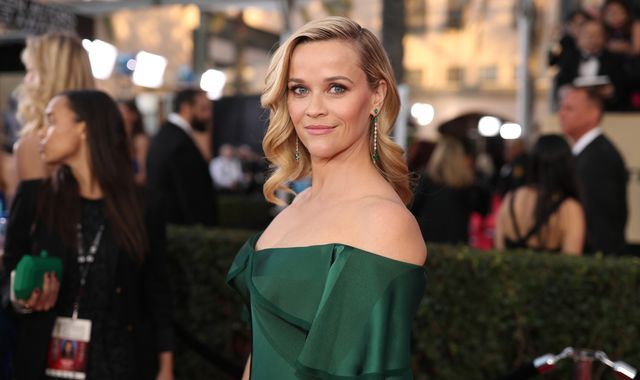 Reese Witherspoon has asked that fans accept her as she is, after revealing she has a secret third leg.
The star jokingly "revealed" the extra limb after a bizarre shading issue was noticed on the front cover of this month's Vanity Fair, which appears to give her a third leg.
She's not alone in the extra body parts, as another photo from the same shoot appears to show chat show host Oprah Winfrey with a third hand.
On the front cover, fans were quick to spot that not only does Witherspoon have her legs crossed at the side of her, but she also appears to have one leg at the back, propping her upright.
However, Vanity Fair explained this was just the lining of her dress.
In another picture from the shoot, Oprah is seen holding Witherspoon by the waist as the pair laugh with Tom Hanks.
But the chat show host has two hands in front of her - and another one around Witherspoon's waist.
On Twitter, Witherspoon wrote: "Well...I guess everybody knows now...I have 3 legs. I hope you can still accept me for who I am. ( and I will never apologize for snuggling @Oprah... if you get the opportunity, I highly recommend it;)"
Oprah responded by saying: "I accept your 3d leg. As I know you accept my 3d hand."
Addressing the error, Vanity Fair tweeted: "While we would have loved the exclusive on @RWitherspoon's three legs, unfortunately it's just the lining of her dress.
"As for @Oprah, how can we expect her to juggle it all with just two hands? (We are correcting this error​ online​.)"
YouTuber Tyler Oakley tweeted: "oprah has three hands & reese has three legs, and we are here for accepting them for who they are!! 2018 is all about LOVING OUR BODIES!!"
The issue features 12 stars and one journalist, focusing in part on the Time's Up movement to end sexual harassment in Hollywood.
Alongside Oprah and Witherspoon, the front features Jessica Chastain, Harrison Ford, Michael B Jordan, Zandaya, Gal Gadot, and Nicole Kidman. Also on the front is journalist Graydon Carter.
The issue was also meant to feature actor James Franco, but he was removed from the front.
A Vanity Fair spokesperson said: "We made a decision not to include James Franco on the Hollywood cover once we learned of the misconduct allegations against him."
Franco has denied the allegations against him.
(c) Sky News 2018: Reese Witherspoon jokes about 'third leg' on Vanity Fair cover