Courteeners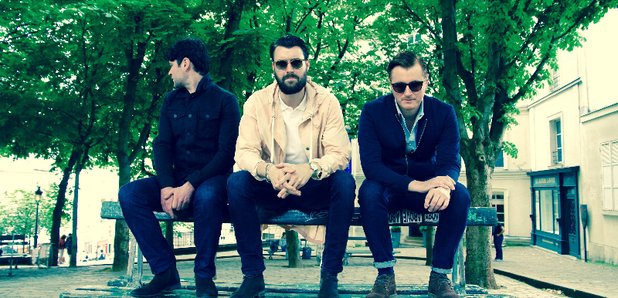 Indie rockers Courteeners hail from Middleton, Greater Manchester. They are: Liam James Fray on guitar and vocals, Michael Campbell on drums, Daniel 'Conan' Moores on guitar and Mark Joseph Cuppello on bass.
Debut single Cavorting was released in 2007, and in 2016 released their fifth studio album, Mapping The Rendezvous.
Sunday, 6th August 2017
The Courteeners frontman spoke to Peter Crouch about his beloved United, and recalled the first ever match he attended.
Friday, 4th August 2017
Watch as the Courteeners frontman tells Peter Crouch why he can't wait to "mess around" on his "relaxed" solo tour.

Due to "phenomenal demand" the Courteeeners frontman has also upgraded his Glasgow gig to a new venue.
Saturday, 29th July 2017
The Courteeners frontman is going it alone with stripped-back gigs this autumn.
Thursday, 27th July 2017
The frontmen join the likes of Mark Ronson, Stormzy and Brendan Urie to cameo in the star-studded promo.
Tuesday, 27th June 2017
Fan Nikki Byrd had the surprise of her life during Liam Fray and co's Other Stage set on Sunday.
Friday, 23rd June 2017
The frontman joined Radio X's Gordon Smart to perform some classic Courteeners tunes live in the studio. And it was spellbinding. Watch the whole session.
Wednesday, 21st June 2017
The Courteeners frontman tells Radio X's Gordon Smart that the city's response to the terror attack last month made him "proud to be a Mancunian".
Sunday, 28th May 2017
Liam Fray performed the anthem during their huge Old Trafford show in Manchester last night.
Friday, 26th May 2017
Lancashire County Cricket Club has announced stringent security checks and "enhanced resources" for their show on Saturday.
Wednesday, 24th May 2017
See the forecast for their homecoming gig in Manchester this weekend.

The Courteeners frontman read the ode as a tribute to those affected by the Manchester attack.
Tuesday, 23rd May 2017
The band, promoter and venue have released a statement asking fans to "allow extra time for travel" and to not bring "any form of pyro".

The Courteeners frontman has shared moving words on Twitter following the horrific terrorist attack in his hometown.
Monday, 22nd May 2017
Are you seeing Liam Fray and co. this Saturday? Find out how you could take part.
Thursday, 11th May 2017
Tim Burgess and co. have placed tickets to Courteeners' Emirates Old Trafford gig in a signed vinyl of their Different Days LP.
Friday, 5th May 2017
The Modern Love outfit will play two intimate shows ahead of their huge sold-out gig in Manchester this month.
Tuesday, 2nd May 2017
The Courteeners frontman has revealed he can't see himself being in a band at 60.

The Courteeners frontman talks early Oasis comparisons and reveals he never tried to be like the outspoken rocker.
Thursday, 20th April 2017
The Courteeners frontman revealed what he absolutely can't stand seeing in the crowd.

The Modern Love outfit are among the acts to be added to the bill at Nos Alive Festival.
Wednesday, 12th April 2017
The Courteeners frontman thinks the band plays it "dead safe".
Tuesday, 11th April 2017
Liam Fray has responded to comments made by Emily Eavis that the band could top the bill.

Modern Love is the next cut to be taken from the band's Mapping The Rendezvous album.
Friday, 2nd December 2016
The band were three songs into their set at Kingston's Hippodrome when Fray was hit in the face.
Friday, 18th November 2016
The Courteeners frontman discussed the media's reception of the band, who announced their split in April this year.
Wednesday, 16th November 2016
The frontman thinks there's a "sneery classist undertone" to the idea they only have a Northern fanbase.
Wednesday, 26th October 2016
Liam Fray wants to treat the couple who are holding their wedding reception at their Emirates Old Trafford show.
Saturday, 22nd October 2016
The bride and groom are celebrating their nuptials with 67 tickets to the band's biggest show to date.
Monday, 17th October 2016
The Middleton outfit will play their biggest headline show to date joined by The Charlatans, Blossoms and Cabbage.
Wednesday, 5th October 2016
A temporary tribute to Manchester's biggest stars is being launched this weekend. But who have they missed off? Radio X pitches for some of our favourites.
Monday, 26th September 2016
The Courteeners frontman has been confirmed for the multi-venue festival in Manchester this October.
Monday, 29th August 2016
Liam Fray and co will be heading out on the road this autumn to support their new album Mapping The Rendezvous. PLUS! There's a new single on the way, too.
Thursday, 11th August 2016
Fans can listen to the first track to come from their fifth studio album just after midnight, tonight on Radio X.
Monday, 7th December 2015
Liam Fray and his band weren't impressed by the missile thrown on stage at their London gig on Saturday.
Tuesday, 24th November 2015
Producer Dave is such a big fan of Courteeners, Chris Moyles let him take over the interview with frontman Liam Fray... but things got a bit weird.
Tuesday, 10th November 2015
Liam Fray remembers Christmas past in Middleton in this fine festive treat.
Thursday, 27th August 2015
After joking about their residency in Manchester this Christmas, Courteeners have added another two dates in Manchester. Plus, there are also new London and Glasgow shows.
Friday, 5th June 2015
Liam Fray has been guest-hosting The Breakfast Show on Radio X Manchester ahead of the band's huge homecoming show at Heaton Park tonight - and he says the show is the band's defining moment.
Monday, 11th May 2015
Peace and Blossoms have been announced as the support for Courteeners' huge Heaton Park show this summer.
Monday, 2nd March 2015
The first round of acts for the V Festival 2015 have been announced, with Hozier, Courteeners and James Bay also confirmed.
Friday, 9th January 2015
The latest additions to the Isle of Wight 2015 line-up have been announced, added to a top bill that already includes The Prodigy, Black Keys and Kodaline.
Friday, 19th December 2014
Watch a stunning solo acoustic rendition of the Courteeners classic.
Tuesday, 11th November 2014
The phones are believed to have been stolen during the Brixton show in London on Friday.
Thursday, 21st August 2014
The band will hit the road to support new album Concrete Love.
Monday, 11th August 2014
The Manchester band - fronted by Liam Fray - are back with another assured and witty album.
Friday, 25th July 2014
Title track from the band's new EP.
Monday, 21st July 2014
How Good It Was is taken from their forthcoming album, Concrete Love and is out now.
Tuesday, 8th July 2014
The Manchester band will play the legendary venue next week.
Friday, 4th July 2014
The Manchester band reveal a new live video of Are You In Love With A Notion available on a deluxe version of their new album.
Love The Courteeners? Click the like button to add them to Facebook
Now Playing
10am - 1pm
Text 83936