Oasis: The making of Definitely Maybe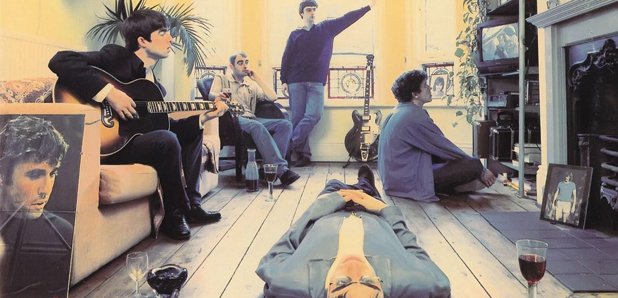 The classic debut album is 20 years old this week. Radio X talks to some of the players in the story, from Alan McGee to Bonehead.
Definitely Maybe is the first of three classic Oasis albums to get the reissue treatment as part of the Chasing The Sun series. The album - which is released as standard CD and digital download this week - is a three disc compilation of original album tracks (disc 1,) b-sides and extra tracks (disc 2) and unreleased demos, out-takes and live recordings (disc 3).

To talk us through the making of this all-time classic, Radio X has spoken to Alan McGee, the former head of Creation Records and the man who signed Oasis; Paul "Bonehead" Arthurs, original rhythm guitarist with Oasis from the band's formation until 1999; and Hamish MacBain, author and former Assistant Editor with the NME.
Alan McGee on signing Oasis to Creation Records
The former boss of Creation tells Radio X about seeing Oasis for the first time at King Tut's Wah Wah Hut in Glasgow in May 1993.
Alan McGee on the making of Definitely Maybe by Oasis
The former President of Creation Records tells Radio X how the making of the debut album from Oasis was a long, hard journey.
Rock 'n' Roll Star
[[ This video has been removed ]]

Alan McGee on Rock 'N' Roll Star
Bonehead on Rock 'N' Roll Star
Hamish MacBain on Rock 'N' Roll Star

Shakermaker
[[ This video has been removed ]]
Alan McGee on Shakermaker
Bonehead on Shakermaker
Hamish MacBain on Shakermaker
Live Forever
[[ This video has been removed ]]
Bonehead on Live Forever
Hamish MacBain on Live Forever
Up In The Sky
Bonehead on Up In The Sky
Hamish MacBain on Up In The Sky
Columbia
Bonehead on Columbia
Hamish MacBain on Columbia
Supersonic
[[ This video has been removed ]]
Alan McGee on Supersonic
Bonehead on Supersonic
Hamish MacBain on Supersonic


Bring It On Down
Alan McGee on Bring It On Down
Bonehead on Bring It On Down
Hamish MacBain on Bring It On Down


Cigarettes And Alcohol

[[ This video has been removed ]]


Alan McGee on Cigarettes And Alcohol
Bonehead on Cigarettes And Alcohol
Hamish MacBain on Cigarettes And Alcohol


Digsy's Dinner

Alan McGee on Digsy's Dinner
Bonehead on on Digsy's Dinner
Hamish MacBain on on Digsy's Dinner


Slide Away

Alan McGee on Slide Away
Bonehead on Slide Away
Hamish MacBain on Slide Away
Married With Children
Alan McGee on Married With Children
Bonehead on Married With Children
Hamish MacBain on Married With Children
DOWNLOAD THE ALBUM