See the Muse frontman tell Radio X's Gordon Smart about his his extra-terrestrial experience, while drummer Dom talks night terrors.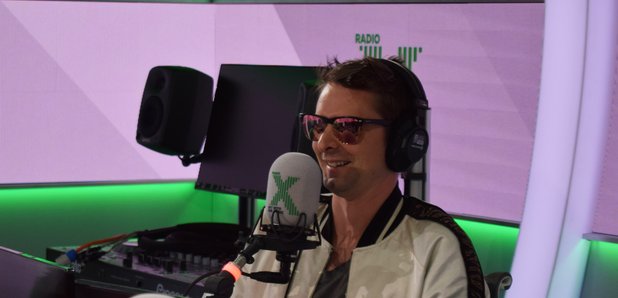 Matt Bellamy has revealed he may have had an alien encounter when he was driving home from a session in Devon.
The Muse frontman recalled the other-worldly experience in the woods to Radio X's Gordon Smart recently, but admitted he may have been smoking something dodgy at the time.
Play
So Matt Bellamy has seen a UFO...
So Matt Bellamy has seen a UFO...
03:08
"I saw this flashing light that was in the woodland, revealed the Drones rocker. "And it was really unusual at that time of night, 'cause it was like one in the morning.
"What it was though, I remember just waking up at home, and to this day I don't quite remember the journey from there home.
The Starlight singer added: "I was driving so I definitely didn't drink anything. I'm not suggesting that at all, but I may have smoked something that was grown in Devon.
"It was some kind of tobacco, so it was more likely that than being abducted by aliens".
Drummer Dom also talked about his horrific night terrors, which involve him being dragged off by goblins in the middle of the night.
Meanwhile, this weekend Muse will play a special charity gig ahead of their headline slot at Reading and Leeds Festival.
LONDON! Muse have announced a By Request show at @o2sbe on 19 Aug in aid of @PassageCharity https://t.co/rWP6qrsSrh pic.twitter.com/7cl4w5iWax

— muse (@muse) July 3, 2017
The Drones trio will play the O2 Shepherd's Bush Empire on Saturday 19 August in aid of The Passage, London's largest voluntary sector resource centre for homeless and vulnerable people.
Muse are calling the gig a "By Request" show, as ticket holders can choose up to ten of their favourite tracks - all votes submitted will then be collated and used to curate the set on the night.

Matt Bellamy said, "We have admired The Passage's work for a while now. Their work is vital to the community in London. We are looking forward to doing our bit to help the amazing staff and volunteers and the homeless people who benefit from their tireless hard work."

August Bank Holiday weekend will see Muse headline the twin festivals for the third time in their career, having previously topped the bill in 2006 and 2011.

The Passage's offers a wide range of services to meet the varying needs of homeless and vulnerable people, enabling them to move on to live safe, happy and fulfilling lives.
Muse previously spoke to Gordon Smart on Facetime about their plans for new material. Watch our clip below:
Play
Muse reveal new album plans
Matt Bellamy unveils what's happening in the band's world... and it's pretty exciting
00:47