The Wall Of Glass singer has given his verdict on Mick Jagger, Bono and the Foo Fighters frontman.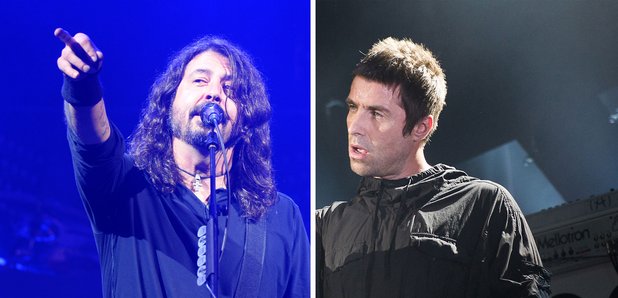 Liam Gallagher has shared his thoughts on Dave Grohl's decision to keep touring after he broke his leg in 2015.
When asked about the Foo Fighters frontman and his famous throne, the Oasis rocker told GQ Magazine: "He ruined it for all of us. He broke his leg and still toured. Who does that? Now if I have a 'cold' I can't cancel because I'll look like a wuss."
Asked to give his verdict on The Rolling Stones frontman Mick Jagger, he mused: "Fair play to ol' dinosaur hips, but I'm not that man. I'm anti-entertainment. Poor sod, he's got to dance until he's 108."
When it came to Bono, however, the Wall Of Glass singer had a few less nice things to say.
"I had the Bono chat, yeah. Wish I'd had an out-of-body experience instead," he said.
"Not in my top 50."
Today saw the outspoken rocker share the first snippet of his upcoming new For What It's Worth track.
Taking to Twitter, the rocker shared a 52-second clip of himself singing the song in the studio a capella.
Watch it here:
Play
Liam Gallagher - For What It's Worth teaser video
See the Oasis man sing the track a capella.
00:52
The song contains the lyrics 'In my defence all my intentions were good," which the rocker previously teased on Monday (7 August).
"In my defence all my intentions were good" LG x

— Liam Gallagher (@liamgallagher) August 7, 2017
Meanwhile, Radio X aired our exclusive Chris Moyles Meets Liam Gallagher interview on Monday.
During their chat in one of Gallagher's local boozers, the outspoken rocker spoke about everything from Twitter, to an Oasis reunion and the fact he thinks his brother Noel will dig his solo album.
Find out why here:
Play
Liam Gallagher: "Noel Will Dig My Solo Album"
02:39
Not one to mince his words, Gallagher also admitted he loves to go on Twitter to set a few things straight and reply to "cocky little c**ts".
Play
Liam Gallagher on Twitter
03:13
Watch the interview again IN FULL below:
Play
Chris Moyles Meets Liam Gallagher
Watch the full, revealing interview here.
36:34