Green Day
Green Day Biography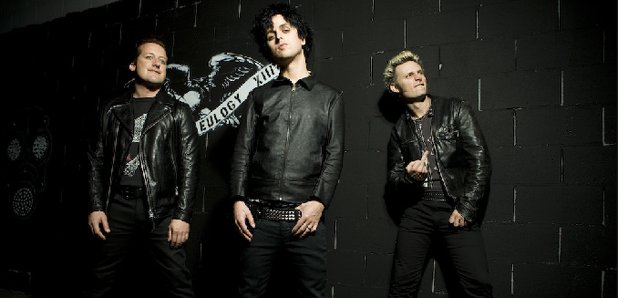 American punk rockers Green Day formed in 1987, and for the past 25 years have commanded a loyal following.
They are: lead vocalist and guitarist Billie Joe Armstrong; guitarist Jason White; drummer Tre Cool and bassist Mike Dirnt. One of the world's best selling groups, they have gained five Grammy Awards. Major debut album 'Dookie' was a wide ranging commercial success. Followed by 'Nimrod', the band's popularity only grew, and was strengthened further with 2004's 'American Idiot'.
Monday, 27th March 2017
The Green Day frontman has described current US politics as a classic story of "good versus evil".
Friday, 24th March 2017
The trio performed Still Breathing on The Late Show with Stephen Colbert.
Tuesday, 21st March 2017
The trio covered one of the late rock 'n' roll pioneers biggest tracks at their gig in Ontario, Canada.
Monday, 27th February 2017
According to reports, the BBC appeared to announce the news online during their coverage of Foo Fighters' Frome gig.
Friday, 17th February 2017
Celebrate Billie Joe Armstrong's 45 birthday by reliving this great Green Day moment.
Thursday, 9th February 2017
The Green Day frontman invited the mega-fan to perform on stage at The O2, London.
Tuesday, 31st January 2017
The likes of Rancid, Gogol Bordello and The Hives are set to support the punk rock trio.
Wednesday, 25th January 2017
The Green Day frontman invited the lucky fan on stage during their Revolution Radio tour.
Tuesday, 17th January 2017
The punk rockers have taken aim at the President-elect in their latest music video.
Monday, 16th January 2017
One YouTuber is having the time of his life interrupting his mate's guitar sessions.
Monday, 12th December 2016
The trio dedicated Boulevard Of Broken Dreams to those who lost their lives at the Ghost Ship warehouse.
Thursday, 8th December 2016
Find out where the Revolution Radio trio will be celebrating 4th July next year.
Monday, 14th November 2016
Frontman Billie Joe Armstrong says he prefers "more human contact" with his fans.
Thursday, 10th November 2016
The Revolution Radio rockers gave Chris Moyles their reaction to the result.

The Revolution Radio trio told Radio X's Chris Moyles they have no plans to call it a day.
Wednesday, 5th October 2016
The Green Day singer has said he says the phrase is "a contradiction in terms".
Tuesday, 4th October 2016
The Revolution Radio trio will play the London event on Saturday 1 July next year.
Friday, 23rd September 2016
The song is the next cut to come from their forthcoming 12th album, Revolution Radio.
Monday, 19th September 2016
The trio have fallen prey to an illness that's affecting the band and crew…
Friday, 16th September 2016
The Green Day frontman stars in the film Ordinary World as a former punk rocker…
Tuesday, 6th September 2016
Drummer Tré Cool spoke to Radio X about the announcement and praised their "crazy, radical" and "smart" UK fans.
Thursday, 11th August 2016
The track is the first cut to come from their forthcoming Revolution Radio album.
Monday, 15th February 2016
Basket Case just got even more epic.
Monday, 20th April 2015
The ex-Beatle was rewarded this weekend for his solo career, while Green Day, Lou Reed and Joan Jett were inducted into the Rock and Roll Hall of Fame.
Wednesday, 17th December 2014
The punk trio will be rewarded for their outstanding career (so far), along with Ringo Starr, Lou Reed and Joan Jett.
Thursday, 9th October 2014
Kraftwerk and NIne Inch Nails are also up for the honour at the 2015 event.
Monday, 28th October 2013
Billie Joe Armstrong has joined forces with the Come Away With Me Singer for new album inspired by The Everly Brothers...
Monday, 12th August 2013
The trio have announced an intimate show at O2 Academy Brixton ahead of the festival slots....
Thursday, 6th June 2013
The trio have set a new gig attendance record at the Emirates Stadium.
Thursday, 9th May 2013
The Green Day frontman has posted his dismay at the Gangnam Style singer's return.
Wednesday, 2nd January 2013
After Billy Joe's stint in rehab the band have announced they are getting back to business.
Tuesday, 16th October 2012
Rob Cavallo has said he doesn't believe that the frontman will be out anytime soon
Monday, 24th September 2012
Billie Joe Armstrong is getting treatment for substance abuse after an onstage meltdown
Tuesday, 11th September 2012
It's Green Day versus Foo Fighters in a tale of a heavy night out...
Monday, 3rd September 2012
The trio postpone an Italian date over the weekend
Wednesday, 22nd August 2012
The band are hotly rumoured to be appearing at this weekend's festival
Thursday, 12th April 2012
The band were trending on Twitter after Billie Joe Armstrong announced the three-strong release
Friday, 17th February 2012
The band are back in the studio and have posted a clip of day one online....
Friday, 6th November 2009
The controversial show takes place in Berlin...
Monday, 18th May 2009
Despite only two days' worth of sales, 21st Century Breakdown topples Bob Dylan at the top of the album chart.
Friday, 15th May 2009
Billie Joe Armstrong tells Ian Camfield that the band's eighth album is their most optimistic to date.
Tuesday, 12th May 2009
The punk superstars admit that moving on from the staggering success of their third record proved difficult.
Wednesday, 6th May 2009
Green Day are to play another British show on their 21st Century Breakdown tour this autumn.
Love Green Day? Click the like button to add them to Facebook
Now Playing
10am - 1pm
Text 83936