News
Saturday, 4th March 2017
Now that Foo Fighters are back in action, can we expect more heart-warming scenes like this?

According to reports, Foos' mysterious boarding passes were mistaken by the hapless parent for junk mail.
Tuesday, 28th February 2017
Getting ready to flip out for Shrove Tuesday? Here's how to bring the rock to your pancakes.
Saturday, 25th February 2017
Dave Grohl claims that he asked Michael Eavis for an extra long slot at this year's festival…
Friday, 24th February 2017
See all the best pics, vids and moments from the night here!
Now Playing
5pm - 8pm
Text 83936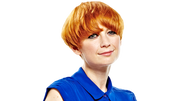 Now playing: Non-stop music