The news comes as the star has appeared to delete his Twitter account following his Game Of Thrones cameo.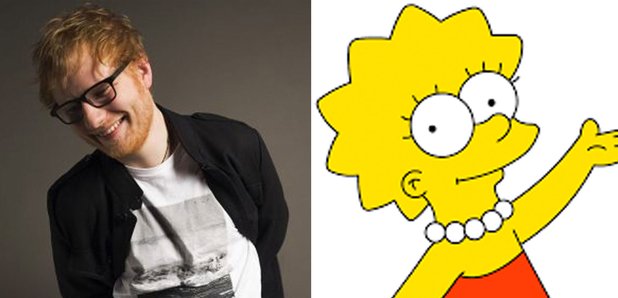 Ed Sheeran is to play Lisa's love interest in The Simpsons.
The Castle On The Hill singer - who recently made a cameo in Game of Thrones - will play the part of singer Brendan in a musical-themed episode, with his character being at the centre of a love triangle involving Lisa and Nelson Muntz.
Executive producer Al Jean told Entertainment Weekly: "We said, 'Oh, great, we'll have him do this!' And we recorded him over the phone from England."
Jean also revealed that Ed's on-screen character will upset Simpsons stalwart Milhouse.
See an image of the the singer as his cartoon alter-ego, which he posted on his Instagram:
He captioned the screenshot: "This year continues to be equally surreal and amazing. Watch out for this one, me and Lisa have a whole thing going on x (sic)".
The news comes as it appears Ed has deleted his Twitter following a mixed response on his Game Of Thrones cameo.
Watch it here courtesy of HBO:
Play
Ed Sheeran makes Game Of Thrones cameo
Watch the Castle on The Hill star appear in the Season 7 premiere.
00:54
Meanwhile, Ed revealed last month that he would love to star on reality shows too, having his sights set on Strictly Come Dancing and I'm a Celebrity...Get Me Out of Here! in the future.
Watch Ed Sheeran play Castle On The Hill live for Radio X:
Play
Ed Sheeran - Castle On The Hill (Live For Radio X)
Ed Sheeran performs his new track Castle On The Hill for us!
03:39
Photo: Press/The Simpsons/Matt Groening