Arctic Monkeys 2018 Tour: Dates, Tickets & More
14 March 2018, 10:54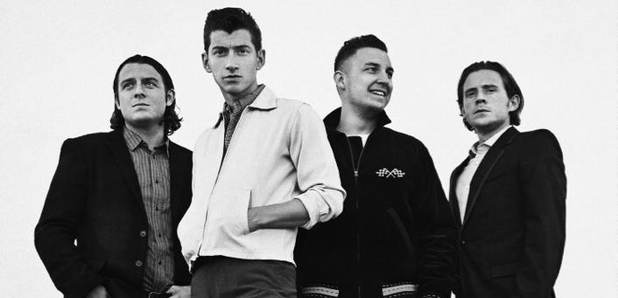 With Alex Turner and co. poised to release their sixth studio album this year, we give you the news, rumours and latest updates on where they'll be playing in 2018.
Arctic Monkeys' as-yet-untitled sixth studio album and the follow-up to 2013's AM is on its way, which can only mean one thing... Live dates in 2018!
See them here so far...
NEW EUROPEAN DATES:
The band will now play the following in Europe:
22 May - Columbiahalle, Berlin
26 May - Caver, Rome
27 May - Caver, Rome
29 May - Le Zenith, Paris
4 June Mediolanum Forum, Milan
26 June Mitsubishi Electric Halle, Dusseldorf
27 June Royal Arena, Copenhagen
NEW NORTH AMERICAN DATES:
And here are some North American dates...Tickets on sale 10am(Local Times) - Friday 16th March. pic.twitter.com/Tc16niBseT

— Arctic Monkeys (@ArcticMonkeys) March 12, 2018
FESTIVALS:
CONFIRMED:
Les Nuits de Fourviere, Lyon, France - 10 July
We shall be performing at Les Nuits de Fourviere in Lyon on 10th July - tickets on sale 2pm(CET) on Friday 16th March - https://t.co/LZjJVWwy0G

— Arctic Monkeys (@ArcticMonkeys) March 13, 2018
CONFIRMED: Osheaga, Canada - 4 August 2018
Also joining the AM rockers at the top of the bill at the festival, which takes place at Canada's Park Jean Drapeau from 3-5 August, are Travis Scott and Florence + The Machine.
Headlining @osheaga on Saturday 4th August - tickets on sale now https://t.co/mL33CBmI3w pic.twitter.com/JWffuSxPe3

— Arctic Monkeys (@ArcticMonkeys) March 13, 2018
CONFIRMED: Primavera Sound, Spain - 2 June 2018
Taking place between 30 May and 2 June in Barcelona's Parc del Fòrum, the 2018 line-up features Nick Cave, The National, Lorde, Bjork, The War On Drugs, CHVRCHES and more. More info at: www.primaverasound.com
#PrimaveraUnchained
Tickets: https://t.co/UazRB0J9Qh pic.twitter.com/yDYCNWdJKd

— Primavera Sound (@Primavera_Sound) January 28, 2018
CONFIRMED: Best Kept Secret, Netherlands - 8 June, 2018
Taking place in Hilvarenbeek in the south of the Netherlands between 16 and 18 June, this year's festival also features LCD Soundsystem, The National, Chvrches and more.
www.bestkeptsecret.nl
Are U Mine? Jazeker! Arctic Monkeys is de derde headliner van Best Kept Secret 2018! Ben jij er bij? https://t.co/VgLjkbZdMA pic.twitter.com/PfnjtMOyLy

— Best Kept Secret (@BKSfestival) January 29, 2018
CONFIRMED: Firefly Festival, US - 14-17 June 2018
Alex Turner and co. announced that they would headline Firefly Festival, where they'll take to The Woodlands in Dover, Delaware this June. More info at fireflyfestival.com
The Woodlands are calling

Passes on sale Friday, 1/12 at 10am ET. Special one-day pricing available Friday only till 11:59pm ET! pic.twitter.com/O4ZPLdgLwy

— Firefly Festival (@LiveAtFirefly) January 11, 2018
CONFIRMED: TRNSMT Festival, Glasgow - 1 July 2018
It's already shaping up to be one of the biggest festivals of 2018, despite only being in its second year. And if that wasn't enough to keep TRNSMT firmly in Arctic Monkeys' sights, the Glasgow Green festival has added a whole weekend of fun this year. Arctic Monkeys will play TRNSMT on Sunday 1 July, with support from Interpol, Blossoms, Nothing But Thieves, Declan McKenna, Miles Kane and Tom Grennan.
Also playing TRNSMT this year are The Killers, Liam Gallagher and Stereophonics with more acts still to be announced. More info at trnsmtfest.com
CONFIRMED: Open'er Festival, Poland - 4 July 2018
Situated on the North Coast of Poland, Gdynia's Open'er festival features an amazing line-up of Arctic Monkeys, Depeche Mode, Fleet Foxes, Gorillaz, Massive Attack and more.More info:
http://opener.pl/en
Arctic Monkeys at Open'er Festival 2018! @ArcticMonkeys #ArcticMonkeys #opener2018 @MiastoGdynia pic.twitter.com/1OaaXvrHho

— Open'er Festival (@opener_festival) January 29, 2018
CONFIRMED: Rockwave Festival, Athens - 6 July 2018
Taking place across July in Athens, Greece, this festival favours the rockier end of the musical spectrum, and other acts confirmed for 2018 are Judas Priest and Iron Maiden. More info at www.rockwavefestival.gr

CONFIRMED: Rock Werchter, Belgium - 8 July 2018
The Monkeys join David Byrne, Eels, Fleet Foxes, Gorillaz, jack White, London Grammar, Nine Inch Nails, Nick Cave And The Bad Seeds, Pearl Jam, Snow Patrol, Queens Of The Stone Age and more in Belgium between 5 and 8 July 2018. www.rockwerchter.be
Sometimes dreams do come true. @ArcticMonkeys - they top the wish list of the festival fans - are back after a 3-year hiatus. They're Rock Werchter 2018's closing act on Sunday 8 July! #RW18 #staytunedformore pic.twitter.com/V8YAOGKDYN

— Rock Werchter (@RockWerchter) January 29, 2018
CONFIRMED: NOS Alive, Lisbon - 12 July 2018
Lisbon plays host to the following acts between 12 and 14 July 2018: Pearl Jam, Queens Of The Stone Age, Jack white, The National, Nine Inch Nails, Snow Patrol, Two Door Cinema Club, Future Islands, CHVRCHES, The Kooks, Portugal. The Man, Franz Ferdinand and more. More info: http://nosalive.com/en/
@ArcticMonkeys confirmados no NOS Alive'18 dia 12 de julho ! • @ArcticMonkeys confirmed at NOS Alive'18 July 12th! #ArticMonkeys #NOSAlive #Portugal pic.twitter.com/WL1MhRamIk

— NOS Alive (@NOS_Alive) January 29, 2018
CONFIRMED: Mad Cool, Madrid - 13 July 2018
The Spanish festival also includes Alice In Chains, The Big Moon, Depeche Mode, Black Rebel Motorcycle Club, Fleet Foxes, Jack White, James Bay, Kasabian, Queens Of The Stone Age, Tame Impala and more between 12 and 14 July 2018. More info https://madcoolfestival.es/
@ArcticMonkeys se incorporan a #MadCool2018 ARCTIC MONKEYS join the line up #ArcticMonday pic.twitter.com/O9QwNzunCK

— Mad Cool Festival (@madcoolfestival) January 29, 2018
CONFIRMED: Oya, Norway - 8 August 2018
Arcade Fire, Kendrick Lamar, Lykke Li, Wolf Alice, Grizzly Bear, Patti Smith and more will play this acclaimed festival between 8 and 11 August 2018. More info: http://oyafestivalen.no
Ons 8. aug headliner @ArcticMonkeys Øya. På samme scene, samme dag, spiller @arcadefire https://t.co/HIYVvGl44x For en åpningsdag i Tøyenparken! #øyaslipp pic.twitter.com/WTzHHwgsLX

— Øyafestivalen (@oyafestival) January 29, 2018
CONFIRMED: Way Out West Festival, Sweden - 9-11 August 2018
Also playing this festival in Gothenburg between 9 and 11 August 2018 are Arcade Fire, Kendrick Lamar, Lykke Li and more… More info:
www.wayoutwest.se
Big news! @ArcticMonkeys --> @wayoutwestgbg. Tickets & info: https://t.co/rTKth1oZAO #wowgbg #ArcticMonkeys pic.twitter.com/uxXU3SohgQ

— Way Out West (@wayoutwestgbg) January 29, 2018
CONFIRMED: Flow Festival, Finland - 11 August 2018
Fleet Foxes, Patti Smith, St Vincent, Grizzly Bear and more play Helsinki's Flow festival between 10 and 12 August 2018. More info: www.flowfestival.com
Are you ready for some more #flowfestival2018 acts?

Arctic Monkeys, Lykke Li, Fleet Foxes, Fever Ray, Kevin Morby, Shame, Anna Puu, Kakka-hätä 77, Kynnet, Lake Jons, Lxandra and Ibe are ready for Flow Festival 2018!

Read more: https://t.co/bKxFOZ5a9w pic.twitter.com/iGcxL1rYi6

— Flow Festival (@flowfestival) January 29, 2018
CONFIRMED: Sziget Festival, Hungary - 14 August 2018
Arctic Monkeys will be joined by Mumford And Sons, Liam Gallagher, Bastille, The Kooks, Blossoms, Wolf Alice, Everything Everything and more between 8 to 15 August 2018 in Budapest, Hungary. More info:
https://szigetfestival.com/en/
So many of you asked for it, and now it comes true: Arctic Monkeys at #Sziget2018! Szitizens, who's excited? pic.twitter.com/R8meCJvm6c

— Sziget Festival (@szigetofficial) January 29, 2018
RUMOUR: Benicàssim
The Killers were the first act announced for the Spanish extravaganza back in December, and we expect that there's plenty more where that came from.
¡Confirmado! @thekillers primer cabeza de cartel del #FIB2018!
https://t.co/HFnaPSQRSb
Your first headliner for #FIB2018: The Killers
https://t.co/CdHteABZFb#VivaFIB pic.twitter.com/1VDQSF2094

— Benicàssim Festival (@fiberfib) December 7, 2017
Arctic Monkeys have a bit of history with the event, headlining in 2007 and 2011, so a return to the Valencian music festival could be very much on the cards.
Lead photo: Getty images/Theo Wargo/Staff